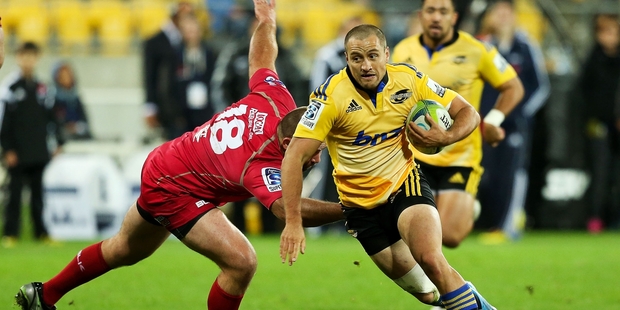 Tim Bateman has put family first in his decision to leave the Hurricanes at the end of the Super Rugby season.
The second-five will return to Japan on a two-season contract and link with the Coca-Cola West Red Sparks in Fukuoka where he played between 2010 and 2012 before he moved to Wellington to join the Hurricanes.
Bateman's wife Laura was diagnosed with multiple sclerosis last year and he said limited treatment options in New Zealand meant his hand was slightly forced as he looked to continue his playing career.
"She needed to show a level of deterioration before they fund her treatment whereas you can go away and it became a bit of a no-brainer really," Bateman said. "It's been a long process and it's not that nice seeing her struggling a little bit and not getting what she needs. So we made the decision to go."
Bateman said the West Red Sparks club had been accommodating of his wife's needs and they would live close to Japan's top specialist on the disease.
"Everything we've read about MS is [getting] treatment early is really important," the 26-year-old said. "So we've decided to go with that but hopefully we can come back because ideally we'd be here."
Bateman and his wife have two daughters and although there's no family support for them in Japan, the access to better treatment for Laura trumped every option.
Japan's Top League offers a family-friendly schedule with fewer games compared to a year of Super Rugby and the ITM Cup.
"I'll have a lot more time to help out with her," he said.
Bateman, who played for the Crusaders from 2007-2010, did not rule out returning to New Zealand in the future but said it would depend on what treatment was available for his wife.
Meanwhile, Bateman was named as one of four changes to the Hurricanes' starting side for tomorrow night's home encounter with the Highlanders at Westpac Stadium.
After spending the past four games playing off the bench after recovering from a shoulder injury, he has been given an opportunity with Alapati Leiua dropped to the reserves.
"I was just sitting there waiting, thinking: 'Am I going to get another crack?'," Bateman said. "So I want to make the most of it this week."
The Hurricanes and Highlanders both have 30 competition points and are sitting sixth and seventh respectively on the Super Rugby ladder.
Mark Hammett's other changes have come in the forwards with prop Jeffery Toomaga-Allen, flanker Jack Lam and hooker Motu Matu'u coming into the fold.
- APNZ