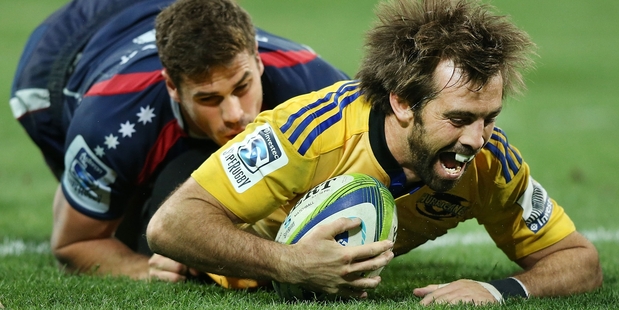 It was the sort of performance that would please a captain.
It's the type of performance teams talk about but don't always get the chance to showcase.
It was the sort of game that was low on big moments but in the context of a season, you look back on with fondness.
Aside from one scintillating team try midway through the second half, there was little that was memorable about the Hurricanes' 25-15 victory over the Rebels in Melbourne on Friday night.
The improving Rebels aren't one of Super Rugby's elite sides but they do certain things well and like to drag teams into the dogfight.
Entering such a scrap usually isn't something the Hurricanes enjoy and in the past few seasons those are the sorts of games they've found a way to lose.
But despite conceding one late try when Hurricanes skipper Conrad Smith was in the sin bin, Mark Hammett's side showed impressive resolve.
"You can't ask for any more. It was going to be one of those games where we would have to work really hard," Smith said.
"It was never going to open up as much as we would have liked and, in the past, that's been the unsticking of us at times. When teams have been willing to graft it out with us we sometimes lose our way. So I thought we were really clinical at times when we needed to be and that's how we got the result."
Beauden Barrett, Super Rugby's leading point-scorer, kept the scoreboard ticking over for the Hurricanes as he nailed six penalties and converted Smith's try.
His 20-point haul proved the difference and he could have had even more had his radar not skewed twice in the second spell.
The victory was also important for the Hurricanes as it showed they weren't broken by a frustrating 39-30 defeat to the Waratahs in Sydney last weekend.
Smith's try, started by the elusive Andre Taylor, involved multiple passes and a pinpoint crossfield kick from Barrett and came shortly after Smith was guilty of spilling a pass with the tryline in sight.
"For the team it was nice because I thought we'd created a lot of pressure and they were infringing a lot," Smith said. "I was glad to get it over."
The Hurricanes will return to familiar surroundings when they host the Highlanders in Wellington on Friday.
Hammett's side are firmly in the play-off picture as they eye their final five games of the season, which are all against Kiwi opposition.
- APNZ