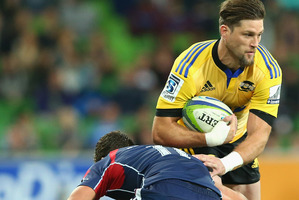 A perfect try played a big part in deciding an imperfect game.
A stream of penalties helped shut down the second half, as the Hurricanes won in Melbourne.
The Hurricanes are nicely placed on the Super 15 table, far better than most would have predicted. But they still don't make convincing title challengers.
The visitors were down to one major highlight, a gem of a second half try finished by Conrad Smith.
Fullback Andre Taylor started it with a kick feint before going on a swerving run.

Beauden Barrett provided a pinpoint cross-field kick, Cory Jane survived the tackle and fed Smith from the ground. It was a classic modern day rugby try, immaculate skills - particularly the Barrett kick - supplementing a bit of Taylor magic.
Beyond that though, there was not much to rave about apart from a spirited if doomed late spurt from the Rebels.
If only referee Matt O'Brien could have turned a blind eye to a few of the indiscretions he uncovered. His decisions weren't necessarily wrong, but the sum of these parts was overly intrusive. Stop start, stop start.
Referees have to learn their way into the top grade, and O'Brien looked like he was trying to give the image of control, without fooling anyone.
But that Smith try was an absolute beauty, one of the best of the year. This should be the Hurricanes' calling card, and they will need plenty more if they are to bid for the crown.
- APNZ