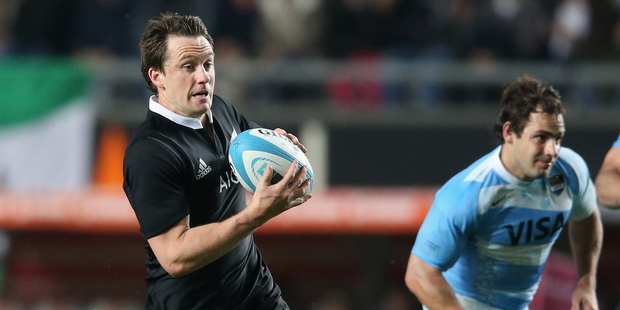 The All Black fullback to play England in the first test at Eden Park is ...
If everyone stays fit my guess is that Israel Dagg will continue his run of 38 tests in preference to Ben Smith and Charles Piutau.
Dagg was the primary pick in that role last year as the All Blacks rolled through their impressive unbeaten season. He was only bypassed for the match in Tokyo against Japan.
A season haul of 13 tests was a huge collect for Dagg after an unproductive season with the Crusaders.
Coach Todd Blackadder persevered with him until another inconsistent match saw him drop his fullback. It was simply a form choice, he said. Dagg had not been delivering enough at a reasonable standard.
But the All Black coaches backed Dagg's talent and their ability to resurrect that flair for the international stage. That recovery had a few hurdles before it eventuated.
That Super 15 pattern looked as if it was going to repeat this season with Dagg among a number in the Crusaders backline who failed to ignite early in the competition.
There was little flow to their work and that ate into Dagg's talent for finding space with his speed and eye for mismatches on defence. In the last few matches Dagg has found more zest as the Crusaders have gained a better foothold in the series.
Even so, his work still rates behind the other contenders for the All Black fullback role.
Ben Smith has been a repeat standout for the Highlanders and Charles Piutau is a whirlwind of endeavour for the Blues.
They are not first-year starlets. They have been showcasing their work for some time and it is of high quality.
When, they might ask, will the All Black selectors reward them for that? Why not a start in the first of the June tests with England?
Smith has accrued plenty of experience in 26 tests where he has been asked to play on the wing and then centre as the selectors have juggled their talent or plugged some vacancies.
He was sharp on the wing but fullback is his preferred position.
Like all three contenders, he is reliable under the high ball or covering tactical kicks while his repeat ability to spot defensive holes on counter-attack is apparent.
His instincts and speed mean he covers the back field well where he also guides his wings.
Piutau offers similar attributes and an ability to bounce out of tackles and keep his feet until support arrives.
His left foot punt is nearly as strong as Dagg's kick and in 10 tests he has shown his ability to play either wing as well. Piutau may be the best front-on defender of the trio.
He, like Smith, will probably feature on the wing or in the reserves for the opening test.