Wholesale changes for match against Lions a bid to solve try-scoring problem.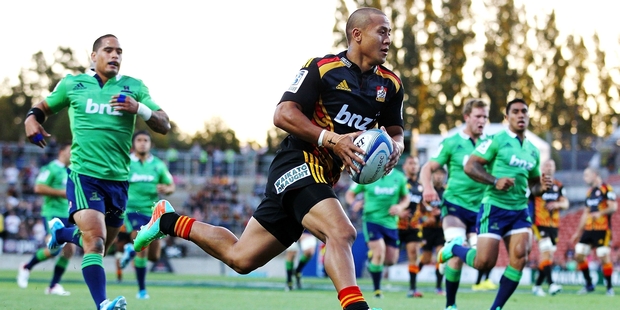 The merry-go-round that is the Chiefs' backline continues to spin as last season's leading scorers seek to once more turn possession into their own personal playground.
With the defending champions aiming for just their second win since mid-March, Dave Rennie made clear his dissatisfaction with his side's stuttering form by opting for nine changes to his run-on XV to face the Lions tomorrow.
The Chiefs have been held to four tries in their past three games and, attempting to find more freedom and fluidity in attack, Gareth Anscombe is the only back who will wear the same jersey he pulled in last week's loss to the Brumbies.
Charlie Ngatai and James Lowe earn starts after recovering from early-season injuries, while Dwayne Sweeney will start for the Chiefs for the first time since 2011.
His inclusion, arriving after recently returning from Japan, brings to 16 the number of different players to start at one of the seven spots in the Chiefs' backline across 10 games this season.
The rotating doors have been especially prevalent outside of halfback (Tawera Kerr-Barlow, Augustine Pulu) and first five-eighth (Aaron Cruden, Gareth Anscombe), where a pair of players have split appearances.
Fullback has featured four different men, as has centre, while seven different Chiefs have started on either wing.
Such instability illustrates the defending champions' admirable depth, considering they sit just a point back from the conference-leading Hurricanes, but it could explain the power outage their attack has recently endured.
The wholesale changes for their encounter with the Lions have been made in search of a solution for their recent try-scoring problem, with assistant coach Andrew Strawbridge denying the suggestion of a panic move.
"A lot of [the changes] are because there are a few guys who have come back into fitness," he said. "And there's a couple of guys who have recently come on and changed the course of a game, which is par for the course for us.
"I think it's pretty standard for us to make a few changes but it's not for any other reason other than we are desperate to win this game."
That desperation sees the versatile Tim Nanai-Williams move to fullback after previously playing on the wing and at centre during this campaign.
With nine starts from 10 games, Nanai-Williams is the only Chiefs back to have been picked on more than seven occasions this season, reflecting his growing influence for the champs.
"I think Tim's done a sterling job for us anywhere he goes," Strawbridge said.
"He feels more a contributor if he's playing at fullback or centre and we're really hoping this sparks him."
Elsewhere, Sweeney and Ngatai have been included in the bid to cut down on the mistakes that cost the Chiefs last week in Canberra.
Strawbridge said Ngatai, who has been injured since the win over the Stormers in March, would ideally aid with communication in midfield, while it was hoped Sweeney would help reduce the error rate in wide channels. APNZ
- APNZ