No 10 will captain Under-20s for Junior World Championship after Hurricanes match.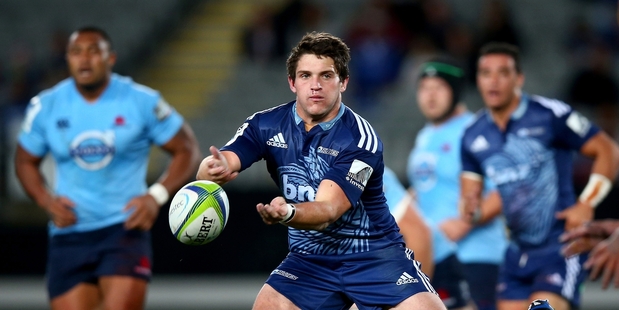 The Blues will have the services of Simon Hickey, should they choose, right up to the May 31 clash with the Hurricanes before he joins the New Zealand Under-20s as skipper for the Junior World Championship.
There was some confusion around this decision yesterday, but the high performance player development manager of New Zealand Rugby, Mike Anthony, said he had been in close communication with the Blues about Hickey's release and there was "clarity".
"The franchise has precedence, or priority, until the [June] break. That's always been the case, back to the likes of Lima Sopoaga," said Anthony.
"What I have communicated with JK [John Kirwan] is that we understand if Simon is selected for the Blues, he would be available. If they were well out of the [playoffs] picture, that would be a discussion we would have.
"But at this stage we are planning on him coming to us later in the piece.
We see some merit in him getting exposed to that level."
There will be a tight timeline, with New Zealand's first game of the tournament against Samoa at North Harbour Stadium on Monday, June 2, just two days after the Hurricanes match.
The Under 20s, which feature three other fringe Super Rugby players in Tevita Li, also of the Blues, Anton Lienert-Brown of the Chiefs and the Crusaders' Mitchell Drummond, assemble in Auckland on May 20.
"We're really proud of them. That's what we're here for, to give them higher honours," said Kirwan of his two national junior reps.
The integration of the other three players will be on a case-by-case basis, but there should be ample cover for the Samoa game, with three other first-fives in the Under-20 mix.
"To win this tournament, we have to have our best players playing well, so I'm sure if Simon can bring his Super rugby form, he'll be a big part of it," said Anthony.
Considering he is only officially in the Blues' wider training group, Hickey has made a good fist of his seven outings, goalkicking at an impressive 85 per cent and scoring 91 points.
He has missed just eight tackles out of 56 this season, not as bad as many have thought.
The Blues No10 position has been something of a merry-go-round this season, with Chris Noakes and the departed Benji Marshall also used there, and now Ihaia West in the mix, but Hickey has nudged ahead of all of them with some composed, if not authoritative, displays.
The Blues trained yesterday at Aorere College, alma mater of Keven Mealamu and not far from Kirwan's old college, De La Salle.
Kirwan confirmed that dinged prop Sam Prattley (neck) is out for this weekend, along with openside and skipper Luke Braid (shoulder). Brendan O'Connor should slot into the No7 jersey.
"There's more pressure on this week to turn up like we did last week," said Kirwan, of Friday's clash with the Queensland Reds, who were skittery in their 35-21 loss to the Hurricanes. The Blues have risen to ninth and they remain unbeaten at home this year.
Kirwan also confirmed that he and the Blues would not be making a play for Dan Carter to instantly solve their first-five issues for 2015.
Herald chief rugby writer Wynne Gray, in his Gray Matters column, had raised the possibility of the Blues chasing the All Black, but Carter has turned them down previously, and his father, Neville, would possibly disown him if he shifted north.