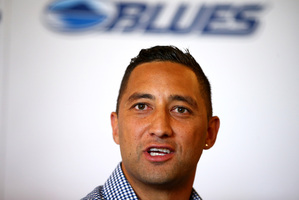 It's easy to see why Benji Marshall did not succeed in rugby.
Blame has been piled on to the Blues coaching and management for their handling of his transition, but did Marshall help himself? Did he explore every option available to learn the game? Did he look closely at himself?
When his signing by the Blues was announced, there were the usual proclamations from Marshall about wanting a new challenge, fulfilling schoolboy ambitions and testing himself against the best.
But how was he to achieve this by watching a video screen, trying to memorise game plans and structures, combined with torturous pre-season training.
Time on the paddock was the best way to learn the idiosyncrasies of rugby, a dynamic sport with too many subtleties to appreciate from a television screen. But being at the coal face did not appear to be an option that Marshall or his management were keen on.
His official departure announcement stated he was given the option of either playing club rugby or returning to league. He decided on the latter.
He probably had the same attitude - that he didn't want to play lower-level rugby - when he signed for the Blues. If so, then he didn't give himself the best opportunity to learn the game. Was he too proud or did he see himself as too good to lower himself to that level?
Either way, he lost an opportunity to comprehend what he'd encounter at a higher level, where you are more exposed. It's no wonder he felt like a league player alongside his union team-mates.
His self-assessment of being an average rugby player was due only to his unwillingness to expand his experience. Shortcuts tend to lead to dead ends.
Admitting that he'd lost his hunger in his final days of league is interesting, given he's suddenly found it again now that he wants to return to the NRL (although this new-found desire does not appear to extend to the English Super League, or NRL clubs outside Sydney).
He stated it's courageous to admit he's not good enough, but if you're honest with yourself, it's not hard to admit at all.
To stop bluffing yourself that everything is OK is much harder. Once realised, admitting you're wrong is easy.
We all know Marshall is a prodigious talent but he best think about wanting to play again for the right reasons. When a club is found, he needs to mould himself around their culture and not vice-versa.
If he really wants to continue playing rugby or league, he needs to play for the right reason. He should finish his career on a high, not a series of truncated, mediocre swansongs.