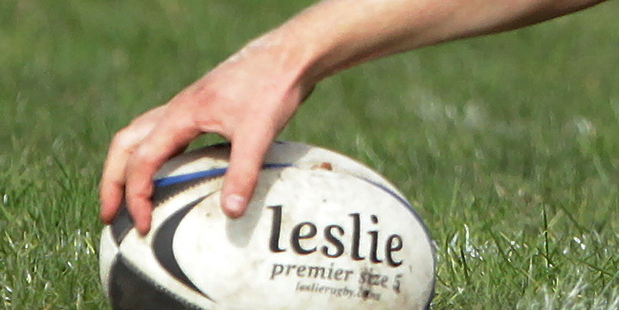 A witness has described an incident where a rugby player almost lost his ear in a ruck as "the worst example of an attack on a player'' he had ever seen.
Gisborne's High School Old Boys' (HSOB) halfback Sione Tamale is due to appear before a rugby union judiciary committee tonight facing a charge of stomping following the incident.
Tamale was sent off for allegedly stamping on the head of Pirates' lock Niko Brooking-Hodgson, 21, in a Poverty Bay premier club rugby match at The Oval in Gisborne on Saturday.
Brooking-Hodgson's ear was almost ripped off and he later required 70 stitches, many of which were internal.
A doctor in the HSOB team and another doctor on the sideline initially tended to Brooking-Hodgson on the field while waiting for an ambulance.
Referee Royce Maynard red-carded Tamale, and the match was shifted to a neighbouring field.
Pirates won the match 46-7.
Tamale is due to appear before Poverty Bay Rugby Football Union's three-man judiciary committee, chaired by lawyer Adam Simperingham tonight.
He will be represented by HSOB coach Wayne Ensor, manager Brendon Hart and club lawyer Mark Sceats.
Poverty Bay Rugby Union CEO Doug Wilcox said the tribunal would follow a process set down by the New Zealand Rugby Union.
The highest penalty the tribunal could impose on Tamale was a year's suspension from the code.
Mr Wilcox said it was his third season as CEO but the first time he'd had to deal with a stomping charge.
Gisborne Pirates rugby club president Pat Makiri said a witness supporting the HSOB team had written them a letter detailing the incident.
The man, who could not be named, said it was the worst example of an attack on a player that he had ever witnessed, Mr Makiri said.
"It was one of the most serious things that I've seen in my rugby career.''
Blood was gushing out of Brooking-Hodgson's head like water from a fountain, Mr Makiri said.
"I was honestly afraid at the time, I guess I was afraid for his life. I mean, that much blood ... the guy was in a convulsion, it seemed like he was choking on blood.''
Brooking-Hodgson had left hospital and was now recovering at home, Mr Makiri said.
"I guess he thinks he's a tough young stallion and he's thinking about coming back to rugby, but I don't think that's going to happen in the very near future.''
Mr Makiri said they were in talks with the Rugby League Board in an attempt to stop Tamale from switching codes if he was banned from rugby union.
Eastern District Police communications manager Kris McGehan said as they had yet to receive a complaint over the incident, a police investigation had not been launched.
Eyewitness' letter:
"During the first-half, a Pirates player shoulder-tackled a High School Old Boys player and in the process appeared to injure his shoulder and fell to the ground.
"The referee blew his whistle and awarded a penalty to High School Old Boys. The referee later reversed this penalty, at this stage the Pirates player was lying on the ground and a ruck formed.
"The High School Old Boys half-back approached the ruck and appeared to be trying to release the ball with his foot however, I suddenly realised that in fact, he had stomped twice on the Pirates' player's head.
"As far as I could see, the ball was not near the player's head. I have no doubt that this was a vicious double-stomp on the player's head.
"It was obvious that the player was seriously injured and appeared to be in a convulsion and his legs were twitching for almost a minute.
"Having played and watched rugby for many years at all levels. I have no hesitation in saying that this would be one of the worst incidents I have ever witnessed.''
- APNZ