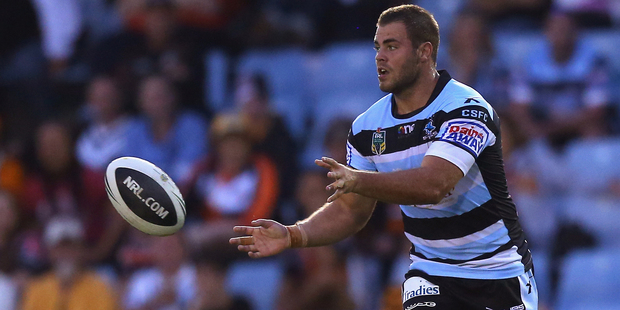 The Sharks players are like school kids being taught by the substitute teacher - they are messing around.
When an interim coach comes in for any length of time, it's natural for players to drop their standards and take their foot off the pedal. It doesn't look like they are engaged and their performance against the Knights last weekend was disgraceful.
They had plenty of excuses to under-perform last week - injuries and the Knights being fired up by the Alex McKinnon situation at the top of the list - and they lay down.
It's been a really tough 18 months for the Sharks. Last season they used the Asada investigation as motivation and it got them to the playoffs. This season they might think it's all a bit too hard. The return from injury of Paul Gallen can't come soon enough for them, because he's a player who can galvanise those around him and won't accept poor standards. He also epitomises their game plan.
When I was at the Roosters, no matter how hard we tried, we struggled to win without Brad Fittler. A lot of our game plan was based around him and, without him, we couldn't cope.
We often talked about everyone having to lift 10 per cent to make up for his absence but, instead, most seemed to drop 10 per cent. Fittler's absence was an excuse.
You can see the importance of one player to a side and Gallen is that player for Cronulla. Last weekend the Storm got hammered without Cameron Smith.
Simon Mannering is the most important player for the Warriors. He's very rarely out of the game and also tidies up a mess and I rate him as the most effective tackler in the competition.
The players around him respect him for doing those 1 per cent plays, like when he's always first back to take the first hit-up after a long kick. Gallen is perhaps the only other back-rower who does that. The Sharks' season is on the line and that makes them dangerous opposition for the Warriors tomorrow. The re-signing of suspended coach Shane Flanagan for another three years is a boost.
For that reason, the Warriors need to play better than they did last week against the Wests Tigers. They need to start strongly to get on top of Cronulla from the outset so the home side simply can't get into the game and doubts creep in.
If I was Warriors coach, I would switch Konrad Hurrell to left centre and tell him to run at Todd Carney all game. It's what the Knights did last weekend, with Joey Leilua, and Carney couldn't cope. The amount of work he had to do on defence also limited his effectiveness on attack. Dane Nielsen doesn't have that strong running in his game - he's a defensive centre - and the left edge is far less potent than the Warriors' right.
I'm concerned about where the game is going after the seven-week suspension handed down to Jordan McLean for his part in the tackle on Alex McKinnon. What it seems to say is that players can't lift a leg at any time, which is what they are taught to do. Players are coached to lift a leg to stop the ball-carrier's momentum and then drive him backwards or forward - not downwards.
By ruling this out, it's taking the essence of tackling out of the game. How are players going to tackle now? It could change the entire dynamics of the sport.
It's an extremely unfortunate situation. What I don't understand is one player being hammered for it - there were three in the tackle. They all played a part.