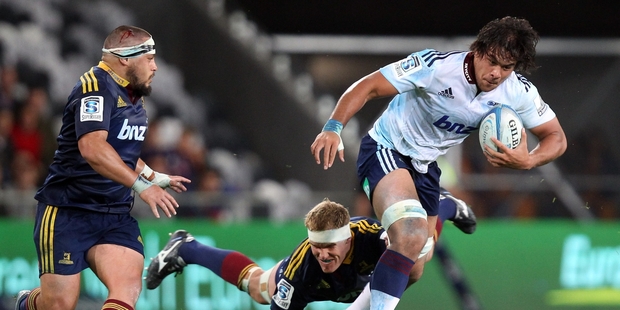 Steven Luatua is on the move to No 8 and he might hope the change of position sparks a change in form.
Peter Saili's minor knee injury has forced the move. In any case Saili probably deserves the rest his patella tendon problem will provide as he has played almost every minute for the Blues, including pre-season matches.
Luatua, such a force at blindside flanker last season, hasn't quite had that same impact this year. He is still one of the busiest lineout operators around - the Rugby Herald's Stats Centre revealing he has won 13 lineouts, the most of any New Zealand player, including Jeremy Thrush (10) and Sam Whitelock (9) - but his ball carrying doesn't have the same bone-crunching quality of last year.
It was that ability to scatter defenders almost at will along with the lightness of his feet and hands which earned the 22-year-old a call-up to the All Blacks last year. He has always acknowledged that his defence needs strengthening, but even Jerome Kaino took time to work on that. There is clearly more to come from Luatua this season.
A specialist blindside flanker with the ability to play lock, if Luatua makes a success of No 8 it could be another string to his bow. Kieran Read is out by himself as the best No 8 in New Zealand and the All Blacks could do with an alternative or two. Luke Whitelock has been groomed but doesn't have the explosiveness of Luatua, or potentially, Kaino, who is readying himself for a return to the Blues next weekend at Eden Park against the Cheetahs. More immediately, Brendon O'Connor's move from the bench to the No 6 jersey alongside Luatua and the in-form Luke Braid at Ellis Park tomorrow morning means the Blues' loose forward trio will be smaller than the Lions' but a great deal quicker.
"You're very fortunate when you've got someone of Brendon's calibre on the bench," coach Sir John Kirwan said. "He doesn't want to be on the bench and every time he comes on he tells you that. We'll be playing with two openside flankers so I'm really excited about seeing how that works out."
- APNZ