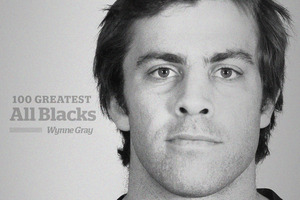 An expression claims brains will always beat brawn but it is a difficult concept to sell to young rugby players when they are getting clobbered.
Conrad Smith inherited strong sporting genes and was involved in most codes as a kid where his slender frame was more resilient at cricket and athletics than rugby. It was only in his early 20's when he moved to Wellington and gained a kilo or two, that he started to figure in rep rugby.
The law student had the cerebral part of the game sorted out, even if his head has taken a few too many serious clouts since he first pulled on the All Black jersey against Italy in Rome a decade ago.
Smith had endurance, enough speed and all the tenacity to play centre where his ability to 'see' the field meant he could cope with the difficulties of that role. He had to organize defenders to trust each other and deal with their space while on attack, his skirting drives and unselfish style was treasure for his wings.
Time at the top has given Smith a conviction about his value and an assurance to take time out to recharge and give himself the best chance of eking out a few more matches.
He has also used his skills to broker concepts for the All Blacks about their annual workload and as a shop steward, worked hard to make his teammates understand critical elements about life after rugby.
Taranaki lauds Kevin Briscoe, Roger Urbahn, Dave Loveridge, Neil Wolfe, Kieran Crowley and Beauden Barrett as heroic All Black content but Conrad Smith might be the best yet.
Statistics
Date of birth: 12 October 1981
Position: Centre
Matches: 75
Tests: 75
Test debut: 13 November 2004 v Italy, Rome
Province: Wellington
Franchise: Hurricanes
Test tries: 24
Test points: 120