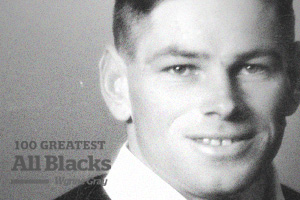 He was named Evelyn but took the abbreviated form of his middle name Haswell throughout his illustrious playing days for Waikato and the All Blacks.
Has Catley made his debut for the Mooloos as a teenager but after taking part in the All Black trials in 1935, the farmer had to wait another 11 years and the first series after WW II against the Wallabies to make his international start.
The All Black pack dominated their rivals at Carisbrook and Catley hooked a flood of ball in the scrums, yet strangely, was overlooked for the next test at Eden Park. He was reinstated for the third and went on to become the star hooker on the ill-fated trip to South Africa in 1949.
An immensely powerful man, Catley was perfectly placed to complement the propping power and technique of Johnny Simpson and Kevin Skinner as the All Blacks confronted the muscular men in green.
Once the tour was over Catley played for Waikato but with a family and a farm which needed his attention, he was unavailable for national duty. The mobile and durable hooker played throughout his province's Ranfurly Shield reign before he moved into coaching.
After the disappointment of the '49 tour to South Africa, Catley got some solace as co-coach of the 1956 Waikato side which beat the visiting Springboks in a famous match at Rugby Park.
Statistics
Date of birth: 23 September 1915
Position: Hooker
Matches: 21
Tests: 7
Test debut: 14 September 1946 v Australia, Dunedin
Last test: 17 September 1949 v South Africa, Port Elizabeth
Province: Waikato
Test tries: 1
Test points: 3