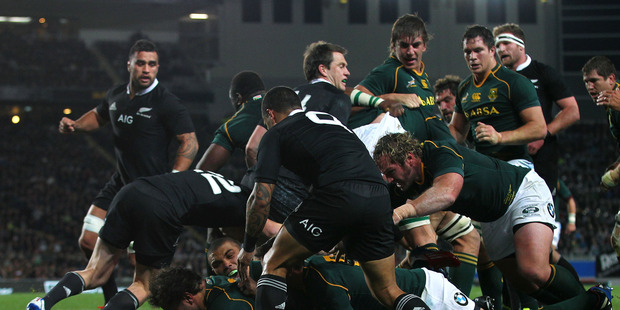 There's a piece of the New Zealand rugby arsenal missing.
At some stage in the next year, the driving maul, or rolling maul as it was once known, needs to be added.
The All Blacks don't need to become obsessed with it but they do need to be able to set one, organise one and make it part of their offering. It would be negligent not to. Rugby's maddening laws make the driving maul almost impossible to defend. They can't be brought down - they can only be stopped by being held up, or if they collapse under their own weight.
The attacking side has all the rights as, for some inexplicable reason, it's deemed okay to have a phalanx of bodies between the opposition and ball carrier. It's an anomaly in the context of how the rest of the game is refereed but, however illogical, these rules are there to be exploited.
England, France and South Africa all showed last year that they have confidence in their driving mauls - and with good reason.
All three, especially England and South Africa, are expert at winning attacking lineouts and scoring tries through their maul. The Boks did that at Eden Park, England got close a few times at Twickenham and the current Six Nations is providing more evidence of how big a factor the maul has become.
On heavy grounds - the same heavy grounds on which the next World Cup will be played - the maul is a legitimate means of advancement. Without question, the driving maul, particularly from lineouts, will be a major feature of the next tournament.
All Black coach Steve Hansen recognised this midway through last year, shortly after his contract was extended to the World Cup.
"Looking at 2015, we have to ask what are the skill sets we are going to encounter from other people. Driving lineouts are something that New Zealand sides are pretty ordinary at. We need to develop a skill set that can cope with that so we can shut that down. And our own game will continue to grow so we can challenge other sides."
There was compelling evidence last year that the All Blacks did indeed develop the ability to shut down opposition driving mauls. While the Boks did score one try at Eden Park from a lineout, the All Blacks also managed to successfully defend several other attempts.
Building that skill was made easier by the fact most players are exposed to opposition driving mauls in Super Rugby. The Bulls and Stormers use it well.
Rarely, though, if it all, did the All Blacks use the driving maul as an attacking weapon and the same is true of New Zealand sides in Super Rugby.
Will this change in 2014? Will we see some New Zealand sides work it into their repertoire? It's one of the biggest questions on the eve of Super Rugby: the All Blacks would benefit from a few teams developing it now, otherwise Hansen and his coaching team will be starting from scratch with limited time.
It's just not something New Zealand teams do - their preference is to look for clean ball off the top and to attack the opposite touchline from where they won the ball.
It is going to take a major mind-shift to recognise the legitimacy and value of the driving maul but, if the All Blacks are going to need it next year, Super Rugby teams could do their bit for the national cause by embracing it now.