Kirwan wants his team to temper behaviour with officials after last season's meltdowns.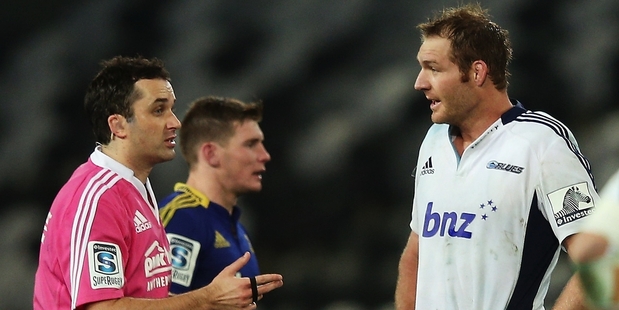 The Blues believe they developed an image problem with referees last year and have hatched a plan to turn it around, which includes being more friendly with officials after matches.
One of the enduring memories of last season, apart from the Blues' excellent start after a miserable 2012, was the on-field battles then-skipper Ali Williams had with referees. The worst was probably his running argument with Jonathon White during the Blues' shock 38-28 defeat to the Highlanders, who at that stage were the competition's worst team, in Dunedin.
Assistant coach Graham Henry didn't help matters with his frank assessment of the officiating during his team's loss to the Crusaders in Christchurch a fortnight earlier, calling some decisions "bull****" and describing the TMO as "blind" after the 23-3 defeat. Henry was fined for the outburst.
It has been decided, therefore, that improvement in the relationships between the team's leaders and referees is desperately needed and to that end former referee Bryce Lawrence and, more recently, current ref Chris Pollock have been giving some valuable advice.
"We're trying to change the perception of the Blues," captain Luke Braid said. "We're trying to work with the referees a bit more and trying to build relationships with them. When they come into the changing room [we'll make sure] it's a friendly environment and myself or the stand-in captain is [seen as] a friend, not an enemy. Maybe we were a bit more of a foe last year, maybe they were a bit afraid to come and talk to us."
Constant penalties can crush a team in terms of points and field position, but there is a more intangible advantage in getting on well with refs, of which Braid and coach John Kirwan are aware. An official well disposed towards a skipper might give his team the benefit of the doubt, or simply be more open.
Richie McCaw and to a slightly lesser extent Kieran Read have become masters at it with the Crusaders and All Blacks, as Braid acknowledged.
"Those guys can definitely influence a game, getting in there early and having a chat, just having that personal relationship with refs might help you out and it might not."
Braid captained the Blues under Pat Lam in 2012 but Kirwan handed the role to the controversial Williams last year. The loose forward denied Williams was at fault for the perception problem, saying "it wasn't due to anyone in particular".
Kirwan said the issue became evident during a review of last season.
"We're addressing it because I think the relationship with our leaders and the referee is fundamental," Kirwan said. "Was it bad last year? No. Was it great? No. If you gave yourself a score out of 100 we were probably at 50 and that doesn't win you a competition. Being 70 or probably 80 to 100 wins you a competition so it's something we've addressed and we're giving our leaders some real upskilling on it."
Braid said handing the captaincy to Williams, now playing for Toulon, was the right decision last year.
"To step back and focus on my own game was good, it was probably the best thing to do. When I got asked this year I thought I was in the right position to be able to do it ... there's a lot more work, but I'm slowly getting better at it."
- APNZ