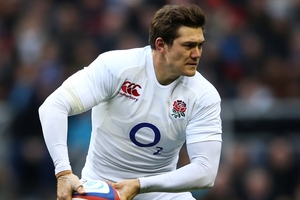 Stuart Lancaster wants England to be an all-white version of the All Blacks as his team kick off a home run towards what they hope will be a World Cup win in 2015.
England are hosting the global tournament two years from now, and Lancaster intends to "maximise home-field advantage" in the knowledge that his team will play 20 of their next 30 matches at Twickenham if they reach the final.
The Cumbrian head coach is ramming home to his players the "identity" of England by insisting they play in their traditional white for the rest of this season and ditch the controversial commercially driven practice of wearing a change strip during next month's tests against Australia, Argentina and New Zealand.
Other schemes include a first redesign of the Twickenham changing rooms since Sir Clive Woodward's time in charge a decade ago.
And Lancaster is unashamedly learning lessons from the reigning world champion All Blacks as he seeks to knock them off their perch.
"We've gone through a big period of transition with a young squad," he said. "I want to do more work with the players on the culture and identity of England, to talk about it with them and see it grow.
"It is a big thing for me in the next 12 months, that we really build on that and maximise the home field advantage and try and really connect the team to the English rugby public and sporting public."
Lancaster used a visit to New Zealand in August to tap into the psyche of rugby's most consistent winners.
His squad will be going there for a tough tour of three tests next June.
"I met Sir Brian Lochore, an icon of New Zealand rugby, to understand more about the DNA of that team, that country," Lancaster said. "I went to a schools game and did a 'coach the coaches' evening. You are watching an under-18 game and it is on their equivalent of Sky and there are 5000 watching it. You can see why it is in their blood."
Before anyone accuses Lancaster of looking everywhere but within for improvement, he emphasised: "The most important bit obviously is getting selection and game plan right."
But his reasoning for imitating the All Blacks is that they are the most consistently successful team on the planet in any sport.
"In world sport I would ask whether there is a better team - I am not sure there is," Lancaster said. "The proof was in South Africa when everything was pointing to New Zealand being beaten but they found a way to win.
"We are saying to our players we need them to be good in every component piece in their game, and have an X factor in two. We have some players who have an X factor in two but perhaps aren't excellent in every area. The Kiwis have got players who are good in every area and have the X factor as well."
It does not hurt Lancaster that England's most notable win under his 22-month tenure was over the All Blacks at Twickenham last December, New Zealand's only loss in their last 30 test matches.
Lancaster intends to lift his squad again when they meet in Leeds on October 21 with nerve-tingling first-hand experience from a group of ex-players with more than 100 caps between them across four decades from the 1950s.
"I wrote and asked them if they'd help us reconnect with what happened with England in the past," he said. "To a man, they wrote back and said 'love to help'."
- Independent