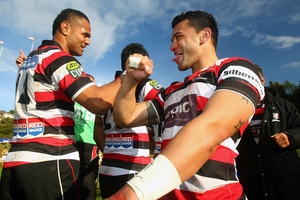 Counties' "B" team were on the brink of pulling off the upset of the season against Canterbury five days ago and now coach Tana Umaga has put the heat on his big guns to back up that performance in tonight's Ranfurly Shield defence against Southland.
The match at Pukekohe's EcoLight Stadium will be Counties' most important game of the season. Should they win, they will keep the Shield for the summer.
Determined to give his top players such as wing Frank Halai, first-five Baden Kerr, hooker Hika Elliot and midfielder Rey Lee-Lo as much rest as possible ahead of tonight's match, Umaga overlooked them for the 38-23 defeat at AMI Stadium, a match in which Canterbury took control only in the last 10 minutes. At one stage the home side were down 23-9.
Now Umaga wants the favour returned.
"Those guys that went down to Canterbury, they fulfilled their role in terms of keeping the pride in our jersey, now there's pressure on these guys who stayed home to fulfil their part of the bargain," Umaga said.
"It was the reason why they got a rest, to make sure they are 100 per cent come Friday night."
When he was planning the season with assistant Steve Jackson, avoiding relegation was the main goal. Now, incredibly, they are on the brink of something special. Apart from their Shield exploits, they are guaranteed a top-four place and Counties could prove difficult customers in the semifinals should their form continue.
Former All Black captain Umaga said: "When you get promoted you don't want to make outrageous goals or statements. Staying up for us can help build a lot of things. I learned that in France being promoted from second division to first division. Once people see you can stay there and you can be a force, that's when you attract better players and things like sponsorship."
Umaga felt the major growth in his players this season had come from the way his experienced men were sharing their knowledge and insisting on high standards, an important factor for his youthful side.
"It's done some great things for our community, there's no doubt about that. But we need to know too that we can't always rely on the Shield ... in these guys' future, they need to prepare fully and do the right things, that consistency of performance can't always have something driving them, be it Shields or Cups or whatever."
He is well aware of the recent Shield pedigree of Southland, who beat Canterbury for the Log o' Wood in 2009 and 2011.
"They know very well what it takes to win the Shield. We're under no illusions about that. We're going to have to be at our best.
"We've had a couple of goes [for the Shield] down there [in Invercargill] over the last couple of years. We got close but they just knew how to keep us out. We have to make sure we have the same mental fortitude to be able to do that ourselves."
Southland, in the running to make the top four of the Championship, fell to Hawkes Bay last weekend, but form means little in Shield rugby. Just ask Counties, who so memorably tipped over the Magpies to claim it five weeks ago.
Umaga added of the team's driving motivation: "We want to keep it here for the summer so a lot more people can get a touch and a look at it."
Counties team to play Southland tonight. Kick-off 7.35pm: Ahsee Tuala, Frank Halai, Rey Lee-Lo, Bundee Aki, Toni Pulu, Baden Kerr, Kane Hancy, Fritz Lee (c), Maama Vaipulu, Adam Cathcart, Jimmy Tupou, Ronald Raaymakers, Jarrod Firth, Hika Elliot, Sam Aiono. Reserves: Suliasi Taufalele, Matt Talese, Sikeli Nabou, Mark Selwyn, Lucky Palamo, Ki Anufe, Sam Vaka.