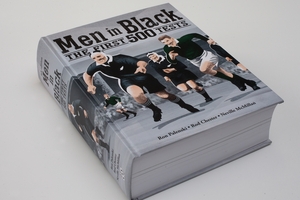 Say Men in Black and film buffs will start drooling about an American science fiction comedy. Tommy Lee Jones and Will Smith are cool dudes but they do not grace the pages of this chronicle of All Black test feats.
The book had a growth spurt in the early 70s when an advertisement in the New Zealand Herald allowed rugby enthusiasts Rod Chester and Neville McMillan to collaborate on the project.
They were not writers. Chester was involved in an import-export business and McMillan taught history at Auckland Grammar but they were enthusiasts and rugby statisticians whose diligence was a strong foundation for the enormous project as they compiled records and reports for the initial Men in Black.
It's been 35 years since the book made its debut and this year's edition, updated by rugby writer and historian Ron Palenski, is the eighth to help commemorate 500 All Black tests.
Palenski tapped out his first report on the national game in 1971 when he wrote a colour piece for the Evening Star about the second test against the Lions in Christchurch.
In his lengthy association with the New Zealand Press Association and the Dominion, Palenski reported on many All Black tests although he stood down from covering the controversial 1981 tour by the Springboks.
All three men have contributed to a gem of rugby history with an array of reports and facts about every All Black test since Jimmy Duncan led his men into action against Australia at the SCG in 1903.
For anyone indulging in an argument or quiz about the All Blacks, the answers should be somewhere in this mighty book, although Brad Thorn was missing from their list of oldest All Blacks. In a book of more than 500,000 words there may be the odd glitch but the richness of this record is gold for any rugby follower.
Discussions have bubbled along in the past few years about the All Blacks taking their team to the States and with the investment of AIG that prospect has gathered momentum. The Maori All Blacks will play in Philadelphia next month which will help gauge the US interest.
Anyone who talks about the possibility of a historic first All Black test is a hundred years out of date. Early last century, some American colleges began to encourage their students to take up rugby because they felt gridiron was becoming too violent.
So in November 1913, the All Blacks played All America and thrashed them 51-3 in Berkeley, California.
"The First World War probably killed off rugby and the Californians realised that and probably knew they would only be playing against themselves or countries like New Zealand or Australia so they went back to football," said Palenski.
"There has been a residual interest in rugby in California, which is why former American footballers formed themselves in rugby teams and won two Olympic gold medals."
Palenski found it hard in recent years to distinguish between some tests.
"I don't mean to denigrate them, but sometimes they become a bit like one-day cricket and you need an exceptional test to stand in the memory whereas previously, and I have the advantage of years, it was easier to remember tests because there were fewer of them and the good ones really stood out," he said.
"The good ones still do, like last Saturday [at Ellis Park] or the one in 2000, those sort of tests."
Another was the All Blacks' win against Wales in their centenary in 1980. While Wales were not as strong as previous teams they still had a powerful side.
"The feeling and atmosphere there is something pretty special and winning that one in Cardiff at their birthday party was very memorable.
"1977 was another, the second test in Paris after losing at Toulouse with the Stu Wilson try and quick lineouts and those sort of tricky Jack Gleeson things."
Many superb All Blacks have been studied by Palenski and many like Michael Jones, whom he nominated, would have been exceptional people without excelling at rugby.
"What I like about rugby, and maybe this applies even more in the modern era than it did, I suspect it rescues a lot of young men from a life of drudgery, even from a life in prison," he said. "This is a side of rugby which is not acknowledged very often and what it can do for people. Similarly with racial relations. We hear talk about racial abuse, particularly in Australia AFL and British soccer, but you seldom hear of it in New Zealand."
That was underlined for him in 1989 when captain Wayne Shelford and coach Alex Wyllie were bemused when the British media inquired about the racial mix in the All Blacks.
Palenski said his book was about compiling a test record where people could relive their memories as part of being New Zealanders.
"In the doctoral thesis I did, I talked about how sport and particularly rugby are such big parts of New Zealand's identity and I think Men in Black contributes to that."