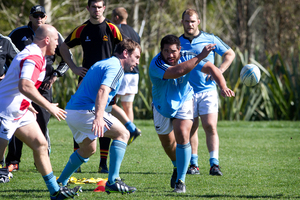 Away from his rugby duties, Charlie Faumuina has a knockabout reputation as someone with a strong sense of mischief.
He jests a bit about work as a rugby concrete mixer but tonight is serious business in Hamilton as Faumuina packs down at tighthead prop against Argentina.
He's had time to think about his ninth test as he comes in to replace Owen Franks who is struggling with a groin injury.
Faumuina has picked up a nasty habit of missing June test matches with injury, this year as a result of a calf injury which took him out of most of the Blues programme in the Super 15.
"It's very frustrating being ruled out but that is the way rugby goes," he said.
Missing the tests against France in June was annoying but Faumuina has recovered and was used from the bench against the Wallabies.
Tonight is the third time he has been asked to start a test.
There is a bit of mystery about Argentina's set piece prowess and how they will deal with the scrum changes but Faumuina gave them the mandatory pre-match respect.
The greatest change he noticed was the extra time spent on the push rather than the previous engagement crunch. It was imperative his calves stood up to the pressure of an elongated push in the battle to upset possession.
"There is a strain on the calves, lot more pressure is isolated on the legs once the ball comes in. It's the side with the best second push which does well," he said.
Faumuina is another large and mobile young man, currently rated a shade ahead of Ben Franks and Ben Afeaki as they chase the younger Franks.
"I just want to repay the faith," Faumuina said of tonight's selection.
He has primary jobs on his tasksheet. Sorting his scrum duties, lifting Sam Whitelock, Brodie Retallick, Steven Luatua or Kieran Read in lineouts, kickoffs, cleanouts and defence are the mandatory duties for the 26-year-old.
Most teammates are no problem to lift because they jump powerfully for a start. Getting the timing right between two lifters, a jumper and Andrew Hore's throws tonight, are the variables in the lineout puzzles.
There were always adjustments if a lifter was late or the wind affected the throw, he said.
"I'd rather be a lifter though, I'm afraid of heights. I don't think I would trust lifters," he laughs.
Faumuina gets all his technical feedback from men such as Mike Cron, who is in charge of technique and has coached his expertise worldwide. The tighthead also gets plenty of comment from his father.
"He gives me a hard time if things are not right or they take too long," he said.
Props never got the same accolades as backs who ran in the glitzy tries but frontrowers were satisfied they usually set the foundation for those moments.
But for Faumuina the greatest satisfaction might come late in the game if he and his support crew got an edge on his opposite prop.
"I'm trying to get the upper hand and that might take the last scrum in the 80th minute and if you do that you get a real buzz," he said.
Tonight at Waikato Stadium he squares off against Marcos Ayerza, who is an experienced shorter man. That makes technique critical for Faumuina because he will have to sink a little more to get the best contact and balance.
"All those sort of things come into it. Owen Franks prides himself on his set piece core roles and this is an opportunity to show I have those skills," he said.