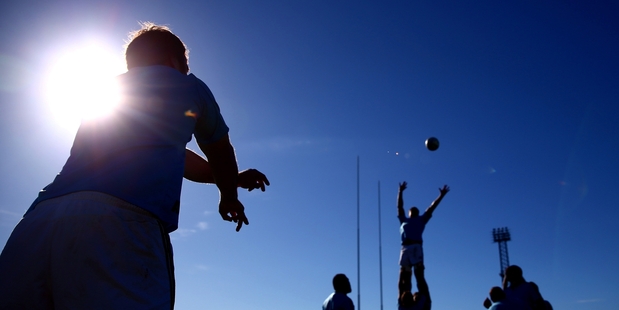 Andrew Hore was joking earlier this week when he said he could do with jacking up a sabbatical. The less funny bit is that he might have one forced upon him as it's believed the Highlanders haven't offered him a contract for next year and aren't likely to either.
Strange days these when the All Blacks want and need a man like Hore and the lowly Highlanders don't. How this mess will sort itself out is about as clear as the Ma'a Nonu saga.
The undisputed facts are these: that the All Blacks aren't ready yet to operate without one of Hore or Keven Mealamu. Ideally the All Blacks would like one of them, if not both, to still be playing well enough to merit selection next year.
Even better, one of them will make it through to 2015, but in the case of Hore, to do that, it's likely only going to be possible if he takes a sabbatical - or extended time off at least if the term sabbatical and all its ivory tower connotations offends his agricultural sensibilities.
It is understood that Hore has alternative New Zealand options to explore other than the Highlanders. So what may happen is that he signs with a New Zealand Super Rugby franchise for next year, but skips the All Black tour to Japan and Europe to give himself an extended off-season.
Or perhaps he'll retire at the end of the year or head offshore - something All Black coach Steve Hansen would probably not be keen to see happen.
Hore especially showed his value in Sydney: he came into the team on the back of patchy form for the Highlanders and didn't blink. That's what 12 seasons in the international game does - it provides a level of certainty and confidence about performance.
Previous form is almost irrelevant for these two - as long as they are fit, Hore and Mealamu have the depth of experience to nail their preparation; to grind out a decent international game.
Despite being six months older, Hore is probably the better bet to make it to 2015 if he decides that he wants to try. There are less rugby miles on his clock for a start and his game is built around his raw strength - something that won't decline with age.
He is the metaphoric Volkswagen - his engine will never die and the All Blacks will fancy they will still be able to get 45-55 good minutes out of him when he's 37 if they can protect him at some point between now and then. The more explosive, higher impact fast-twitch make-up of Mealamu may not weather as well. He's a smaller, more compact athlete - his effectiveness coming from his leg drive, speed into contact and warrior spirit. The last bit will never fade but his lower legs are on-off-on-off these days - his calf especially prone to tightening.
If Hore does skip the end of year tests that would afford him the pre-season window he hasn't had in an age - he could return to action with a new franchise and potentially be physically and mentally ready for the last big push through to the World Cup.
Dane Coles and one other young hooker - Liam Coltman and Rhys Marshall are in the mix - would play against Japan with Mealamu heading straight to Europe.
Coles and Mealamu would work in tandem against France and England and if all goes to plan with whichever young man is taken, it's possible Mealamu will be released a week early to extend his pre-season and leave the protegees to take on Ireland.
Hore floated the idea of spending this summer on the farm in jest. It might, actually, be a seriously good idea.