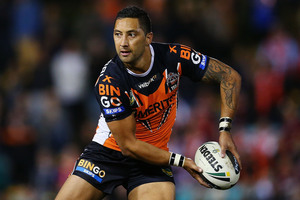 It's not quite 'Like Father, Like Son' but there are some profound similarities between Benji Marshall's switch to rugby and Blues coach Sir John Kirwan's move to league almost 20 years earlier.
Like Marshall, Kirwan's signing was perceived to be as much about publicity as performance, a marketing coup as much as a genuine football move.
Like Marshall, Kirwan signed a two-year deal, after a decade of starring in the rival code.
Like Marshall, Kirwan had been an icon but became overshadowed by younger rivals in the previous two years. Like Marshall, there was considerable doubt over whether Kirwan would be successful.
His move to the Warriors was unveiled days before the club's inaugural match against the Brisbane Broncos on March 10, 1995. It was glorious timing for the new Winfield Cup franchise.
Despite a long rugby career, Kirwan was still only 30 and the record try-scorer for the All Blacks, in test matches (35) and overall (67).
Like Marshall, who has been overshadowed by Shaun Johnson and Kieran Foran in recent years, Kirwan was in the twilight of his career with men like John Timu, Jeff Wilson and Jonah Lomu on the rise.
His signing was the story before the Broncos game but there was significant cynicism. How could he adjust and did the Warriors really need him? They already had Sean Hoppe, fresh from spectacular deeds at Norths and Canberra, on a five-year contract, fellow Kiwi international Whetu Taewa and ex-Wigan superboot Frano Botica.
To an extent, Kirwan proved the doubters wrong. He made his debut in round six of the 1995 season in a 25-22 loss against the Illawarra Steelers and scored a crucial try in a memorable victory over the Sharks at Caltex Field. In all, he played 16 games that year.
Kirwan struggled with aspects of the sport (it didn't help that the team, while full of star names, were dreadfully inconsistent) but impressed with his work ethic and professional attitude. He never quite looked a natural fit for league but was determined to maximise his ability and came into his own the following year, scoring 10 tries from 19 games to finish as the club's leading try-scorer.
Kirwan still ranks as one of the club's better rugby recruits; Marc Ellis was no better than average, while Mark Carter and Mark Robinson would qualify for many fans' worst all-time XIIIs.
Like Kirwan, there is scepticism over the Blues' motivation in luring Marshall. The Kiwi international will be a commercial goldmine. His polished manner and considerable television experience make him a sponsors' dream and his presence alone should halve the marketing budget. In revenue from merchandise and personal sponsors, it is understood Marshall brought in more money for the Tiger each season than he cost in salary.
During Kiwis test weeks, media requests for Marshall usually outnumber those for his team-mates four to one. After training in Cairns last year, the rest of the Kiwis waited for 20 minutes on the bus while Marshall finished signing autographs and posing for photos.
There will also be an undeniable fascination with Marshall, from Kaitaia to Kaikoura. Marshall has been a rare treat on these shores. The Tigers have played here only twice since 2008 and the Kiwis average one home test a year.