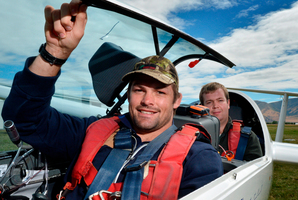 I know there will be some who will disagree with me - but I am of the mind that the Dan Carter and Richie McCaw sabbaticals are a good thing.
This column was written ahead of last night's test against the Wallabies, thanks to deadline issues, so I hadn't had the chance to have a look at McCaw on his return to the team.
But there are several elements which persuade me that sabbaticals for both are the way to go. The 2015 World Cup is already close and, in my opinion, we will need these two players.
I am aware that every time a sabbatical is announced for a senior player in New Zealand, many fans do not like it. I understand their perspective-professional players are paid to play and we should always field our best side; if they can't hack it, select someone who can. I'm pretty sure that's the viewpoint of those in that camp.
But coach Steve Hansen and his cohorts have clearly got a game plan in mind.
They are obviously making sure that they improve their team's performance so that the rest of the world, thinking they are gaining on the All Blacks, will arrive at that place to find they have jumped a further step ahead.
In my opinion, that's what is behind the dropping of Piri Weepu and Victor Vito - one with a question over his ability to stay with the pace of the game that will be required; the other maybe with a query over his ability to impose himself physically on the opposition.
They are also exercising their options. They have three brilliant halfbacks in AaronSmith, Tawera Kerr-Barlow and TJ Perenara whom they will want to develop as they head towards 2015.
Now look at McCaw and Carter. Both chose not to play rugby in some other country and that's the key for me. If they'd both taken off to Perpignan, say, to play for megabucks and wear themselves out, that would be a different story.
But taking a break - that's about recharging the batteries and coming back stronger and fresher. It's being done with New Zealand and the All Blacks in mind.
Let's also be clear about selection: Aaron Cruden is putting pressure on Carter, no question, but Carter is still the best in the world right now. It makes sense. It's the same with McCaw, even more so. His deputies have done well enough but, in my opinion, they are not at McCaw's level yet. Surely it makes sense to manage two players like this to best effect.
Having said all that, I think it is also important that the All Black selectors don't experiment too much on the end of year tour, for example. They do not want to give the English another chance.
That loss to England on the last tour passed without too much comment, most people realising that it was at the end of a long season and the All Blacks were off-colour; a one-off. But they play them again on November 16, then England come out to New Zealand next year, and we don't see them again until September 2015, assuming both sides make it through to the World Cup play-offs. It would be preferable, I think, to remove any England momentum before it starts.
So the All Blacks will want a good Rugby Championship, building through it. Again, this is being written before last night's match but I wouldn't be surprised if the Australians got closer than most expected.
Ewen McKenzie's appointment was probably the right thing for Australian rugby - and he has a chance to shape the culture of the team now. They have obviously suffered in the past with Robbie Deans' iron rule and some of the youngsters behaving brattishly and they all have a chance to put that behind them now. Their injury toll is reducing too and that will help with their depth and confidence.
The South Africans are harder to read. I didn't think any of the South African sides had a noteworthy Super Rugby season (though international form does not always follow Super Rugby) and the squad seems quite a conservative selection. We'll need to see some disclosed form from them (and the Pumas) before we can assess further.