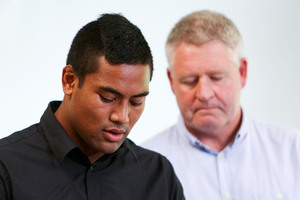 All Black Julian Savea has moved out of his family home and his mother is acting as a go-between for the rugby star and his partner after he was charged with assault.
Savea - who fronted the "It's not OK" anti-domestic violence campaign last year - sobbed yesterday as he publicly apologised to his partner, Dawn, before his appearance today in the Wellington District Court.
The couple have a baby daughter, Cora.
He is the 11th top-level rugby player to be charged with assault in seven years, and rugby bosses yesterday announced an independent review into how the rugby union supports its players in coping with the "pressures of the professional game".
Savea's mother, Lina, told the Herald her son moved in with her after the incident last Sunday, and the entire family was supporting him.
Dawn stayed at Savea's house with their daughter, who is almost 1.
Savea was finding it "very difficult" to be away from Cora, his mother said.
Mrs Savea hasn't spoken to Dawn directly, but has relayed messages between her and Savea, who aren't speaking directly to one another.
Mrs Savea didn't know whether her son and his partner were still together, but said they were "just letting things settle".
"We're just taking it day by day, as it comes," she said. "We're just here for my son as best as we can and his family is behind him, whatever the outcome is, we'll take it. His family and friends are all there for him."
Savea, 22, told a press conference yesterday that he had an argument with his partner and "did some things that are wrong and that I shouldn't have done".
"To my partner and her family I just want to say that I'm sorry to hurt someone that you love and care so much for.
"To be in this situation, I know it's hurting them and it's definitely hurting me, so I apologise to them."
His younger brother Ardie, who also plays for the Hurricanes, was among those listening to him.
Mrs Savea said she had spoken to her son about what happened, but didn't want to speculate before his court appearance today.
Although rugby authorities knew about the incident a day later, Savea was allowed to play for the Hurricanes against the Western Force on Friday, and is expected to be at Hurricanes training this week and to to go to South Africa next weekend.
Women's Refuge chief executive Heather Henare criticised that move.
"What the powers that be have said is that there are going to be no consequences ... I don't think that's the right move. I don't think that sends a message at all," said Ms Henare.
But she praised Savea for fronting up over the allegations.
New Zealand Rugby chief executive Steve Tew said the union was disappointed to learn of the incident and the charge and was having an independent assessment made of how the union supported its younger players.
Since 2006, 11 rugby players have been charged with assault. A 12th, Zac Guildford, sought treatment for alcohol issues after high-profile incidents.
Savea made his provincial debut for Wellington in 2010 and first played for the Hurricanes in 2011.
Read more: Rugby players losing battle with demons
- APNZ