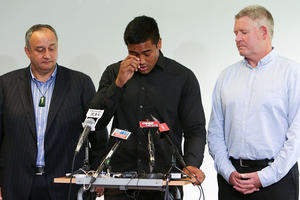 New Zealand Rugby Union chief executive Steve Tew has confirmed the organisation will take on an independent review to gauge whether they are providing enough off-field guidance for their young players in light of Julian Savea being charged with common assault.
The nine-test All Black, who has been in sparkling form for the Hurricanes this year, was charged last Monday following an incident with his partner the day before.
It was more disappointing news for the NZRU who have had to deal with a string of problems from their young players during the past 12 months, notably Zac Guildford's well-publicised battle with the bottle.
"We are constantly looking at the development of our players, both on and off the field,'' Tew said today.
"We benchmark ourselves against a lot of other professional sports worldwide.
We've had people recently attend a conference in North America, we have a lot of people coming out here to look at what we do and it's fair to say, generally speaking, people think we have got a very good player development programme in place.
"But no system's perfect and we are having, I guess you could call them, casualties inside our environment and we'll just get someone to come and have a look and tell us.
"It's possible they'll tell us we are doing too much, I don't know what the answer is but we've got, obviously, incidents that we would prefer not to happen and we want to make sure that we do what we can to make sure they don't happen any more.''
Savea, 22, was in tears as he issued an apology to his partner and her family at Rugby League Park in Newtown. He will appear in the Wellington District Court tomorrow.
Reading from a statement, he said: "Whilst I can't go in to the details because it is now before the courts, I understand that the details will come out in due course. But I will say that my partner and I did have an argument, I did some things that are wrong and that I shouldn't have done and I apologise for that.''
Despite learning of the incident on Monday, Savea, who appeared on posters last year as part of the "It's Not OK'' campaign against family violence, was allowed to play in the Hurricanes' 22-16 win over the Western Force in Wellington on Friday night.
Hurricanes chief executive James Te Puni was asked twice what the reasons were behind Savea being allowed to play but both answers skirted the issue. ``As Steve [Tew] has said there was a number of people involved in making that decision. I think the key thing to remember here is that this matter is subject to a process and from an employment point of view we want to make sure that this process is respected and completed and obviously we will look at what comes out of that in terms of possibly any consequences as opposed to pre-judging it,'' Te Puni said.
When pressed, he said: "I think the primary [reason], as per the comment I made earlier which is there was a process there and there were a number of people involved, obviously the two families concerned and the two primary people concerned, the advisers and lawyers involved and the two primary organisations involved - the NZRU and the Hurricanes. So the reality is it takes some time to work out what the various parties were looking for and as soon as it became clear that everyone was aligned around wanting to front this prior to too much more time going down the track and Julian has done that.''
Savea isn't expected to be stood down from team duties in the short term and will be eligible for selection to travel to South Africa when the Hurricanes head away next weekend following their game against the Stormers in Palmerston North this Friday night.
- APNZ