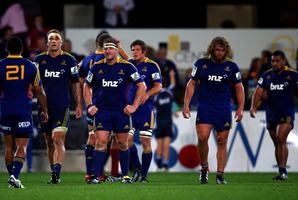 This year's Super 15 looks pretty even as it nears its halfway point.
This is despite a lopsided points table and an itinerary which means the poor old Cheetahs will be the only side not to have used one of their two byes after this weekend. At least, the Chiefs, Reds and Bulls can pull up their armchairs and flick the television on after six games, and in the Reds' case seven, matches without a break.
How does that happen? Remember the 2013 series started one week earlier across the Ditch, so they could squeeze in the Lions itinerary, including three tests in June and early July. So there is a fair amount of licence in deciphering what the standings mean.
Four of the top six sides have already had their offshore slog through either South Africa or the transtasman leg. Only the Sharks and Reds of that group have yet to venture away on that rugged mini-tour.
Down in the embers of the points table, the Rebels and Kings are completing that offshore segment, while the only team below them, the Highlanders, do not head away until early May.
Before the start of tonight's round 8 when the Blues host the Highlanders at Eden Park, two sides from each of the Sanzar nations filled the top six places on the points table.
New Zealand sides are travelling in 2nd, 5th, 7th, 9th and 15th places compared with the Australians 1st, 4th, 8th, 12th and 13th positions and the South Africans 3rd, 6th, 10th, 11th and 14th-placed teams.
Looking at those figures the South African sides seem to be the weakest of the three conferences. Yet all their sides seem competitive with only the Kings struggling to make a serious dent on their opposition.
While the Highlanders are the only side without a victory, their losing margins have not been massive. Twin 12 and 14-point losses to the champion Chiefs, a four-point defeat against the Hurricanes and a single-digit failure against the Reds do not paint a picture of a side out of its depth. More likely it's a reflection of a lack of good-quality players in key roles, hurting against a range of potent New Zealand and Australian opponents.
However the Highlanders' 19-36 loss to the Cheetahs was a shocker, one which told of indiscipline and inattention as they search for a win.
The Australian conference looks to have the greatest split of talent. The Brumbies and Reds have broken away, the Waratahs are clinging to hopes of over-turning their recent poor seasons, while the Force and Rebels don't appear to have enough clout to get out of the basement.