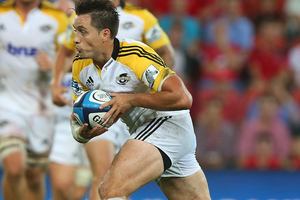 It wasn't effective against the Blues but Hurricanes' midfielder Tim Bateman is wary of the Crusaders' new attacking style which he says they have borrowed off provincial champions Canterbury.
Bateman, a former Canterbury and Crusaders' player who is in his second season at the Hurricanes after a stint in Japan, saw enough in the Crusaders' 34-15 defeat by the Blues at Eden Park to believe that Todd Blackadder's men have indeed attempted to play more attacking rugby.
He said a wide game was something the Hurricanes will prepare for when the two teams, both yet to taste victory this season, meet in Wellington on Friday night.
"From playing with the Crusaders and for Canterbury, I know they have adopted the Canterbury attack," said Bateman. "The Canterbury attack is all about getting to width, coming back to the middle of the field, with the option of getting out the back to go to width again. The thing the Blues did really well, I thought, to cut it off was they didn't panic.
They were prepared to just glide across the field, the Crusaders were going too sideways."
Canterbury's methodology has reaped them five consecutive national championships, and with coaches Tabai Matson and Aaron Mauger making the move up to the Crusaders, it was only natural they would bring a familiar strategy.
However, the Blues' forwards surprised in comfortably containing their vaunted opposites, which left the Crusaders backs with little room to move, a point Bateman acknowledged.
"The game for us will probably be won or lost at the breakdown. The Blues really played well in that area against them. If we can dominant that facet of the game and nullify their wide attack and make the most of our turnover ball and opportunities ... it's going to be pretty key."
Bateman's Hurricanes have had a disappointing start to the season, losing to the Blues at home before falling to the Reds in a stop-start game in Brisbane, a match in which referee Steve Walsh received plenty of criticism.
"It was really hard to get into," Bateman said of the game. "Every time we felt were getting a little momentum the whistle would go or we'd make a mistake. It felt like we were on top of them for most of the game, but it's finished now and we didn't come away with the points.
"We feel like we're close. There are a few things letting us down, but it's not panic stations. We feel we are good enough to do it and we've got the systems and people to do it."
Meanwhile, playing alongside Crusaders No10 Daniel Carter has given second-five Bateman a good insight into what the Hurricanes can expect at Westpac Stadium.
"We had a good chat about him the other day. There are no glaring weaknesses in his game. It's about giving him as little as possible in terms of space. If he does have opportunities in front of him he's got the skills to beat people one on one and do some pretty amazing stuff."
- APNZ