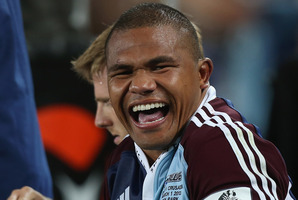 It really is all change at the Blues as they wait nervously to see if No 8 Peter Saili can come good to play the Bulls a week today.
The Blues have not previously waited nervously on the fitness of Saili. An always willing but previously erratic and inconsistent performer, Saili has been a yo-yo player - in and out of the side, up and down in form no one ever sure what they would get.
The season is young but two games in and the Blues appear to have pulled off a magic trick with Saili. He has been a bullish and integral force in their renaissance. The old lament about the Blues not having the control and drive they need at No 8 ... that's gone quiet.
Saili was good against the Hurricanes, even better against the Crusaders. His propensity to push the boundaries - to throw high risk passes or indulge in the daft - has been curbed. Maybe it's temporary, but more likely it's not.
The new coaching panel have made things easy for the 25-year-old. They have asked him to see his role in one dimension, to not over-complicate things.
"The game plan suits me perfectly. It is pretty simple - get the ball in my hands and get some go-forward and then let our fancy backs do some dancing," he says.
It's working. Saili, at 114kg, is well equipped to get his side going forward. He's quick, powerful and dynamic. He looks sharper this year, his ability to charge from the base a feature of the Blues' victory against the Crusaders. The scrum was occasionally retreating and disintegrating, yet it was hard to tell such was the speed and efficiency of Saili to scoop the ball and take off into the wall of red.
It was a little hard to equate the performance with those of previous seasons but that's the impact a new coaching team, new players and a brutal pre-season can have.
The latter is arguably the most important element in the rebirth of Saili - he's fitter than he's ever been and a little like Piri Weepu, the quality can only come when the hard work has been done.
"The conditioning has been good and I'm enjoying footy more.
"Especially with this new side. I have got to lead from the front now. We have to perform well and hope that the others will follow and so far so good."
The Achilles he damaged against the Hurricanes flared up again after another knock on it against the Crusaders. He reckoned the damage was worse and was only hopeful rather than confident he'd recover in time to play the Bulls.