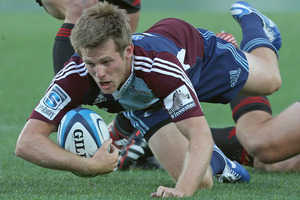 Chris Noakes does not flinch easily. As Sir Graham Henry blindsides him by grasping his shoulders mid-interview, he keeps his composure to complete an articulate answer.
Noakes kept that same composure in the Blues' No 10 jersey as he helped steer the Blues to impressive wins over the Hurricanes and Crusaders. He has made breaks that surprised his critics and has shown cool control. These are encouraging signs in the latest recruit to one of the highest profile roles in New Zealand rugby.
Sir Graham asks: "Can I please see you afterwards?" A wry smile passes Noakes' lips. He chuckles, perhaps a touch nervously. A joke is exchanged about going into the former Kelston Boys' High School headmaster's office at Blues HQ but Noakes gives little else away.
There is little need for him to be anxious. He directed the victory over the Hurricanes assuredly. Rival Baden Kerr might feature in the most recent advertising campaign but Noakes has had the first XV selection nod from coach Sir John Kirwan.
Noakes has never had a better opportunity to shine. He made his provincial debut in 2007 and Super Rugby debut last year for the Highlanders.
He has been labelled a journeyman for daring to progress through the system at the grand old age of 27 after completing a double degree in law and commerce at Otago University. Noakes, who is Auckland born and bred, says it's what was expected from his upbringing.
"I went to Dunedin for university, not rugby. It was important for me to get a degree, even if sport is a huge part of my life. I didn't go away trying to make something of a sporting opportunity but I was always going to play rugby."
There are no airs or graces when you talk to the King's College alumni. He appears to just enjoy talking footy. Oh, and cricket ... Maybe that's where he gets his composure as a former wicketkeeper-top order batsman.
Noakes played three years at first XI level, represented age-grade teams and captained Auckland secondary schools in his final year. His King's side was even tracking towards winning the Gillette Cup until a Hamilton Boys' High School prodigy by the name of BJ Watling took them apart.
Unfortunately the days of a rugby-cricket double international appear over, given the time required for each discipline. There have been seven 'double All Blacks' in the country's history, of which Eric Tindill was the only one to play tests in both sports.
Noakes says he gave cricket away when he couldn't commit over the summer. There was also the shock of struggling against a fifth form fast bowler by the name of Tim Southee bowling some "heavy heat" during a King's Old Boys vs first XI match.
"When I went to Dunedin, the cricket season was three-quarters over by the time I got there," Noakes says. "Then the season had started by the time I got back to Auckland after exams. My rugby also started to take off. I got asked to be in academies and had a shoulder operation one summer. Now when I'm in town, I restrict myself to playing eight-a-side Last Man Stands matches on Thursday nights."
Noakes represents The Old Firm in the New Zealand competition and even contributed 20 runs off 10 balls when his side were losing finalists at the national championships in January.
The journeyman tag sits comfortably. Noakes is not trying to emulate Blues great Carlos Spencer for flair.
"There's no intimidation or extra pressure. I am well aware of expectations. If you put a slack performance out at No 10, it rubs off on a lot of other people. Carlos was someone I idolised growing up because of his X-factor.
"However, he was generally among a top quality team. He personified what the Blues built their play around but that's not the type of player I am. I have that sort of talent outside me; guys who are unbelievable on their feet. I just need to decide how we unleash them.
"Our overriding philosophy is to attack. The last thing we want to do is put a straitjacket on and play boring, conservative rugby that no-one enjoys. But you can't run the ball five metres from your goal line because we'll burn everyone out. You have to play for territory as well but we don't want to kick it straight to them for kicking's sake."