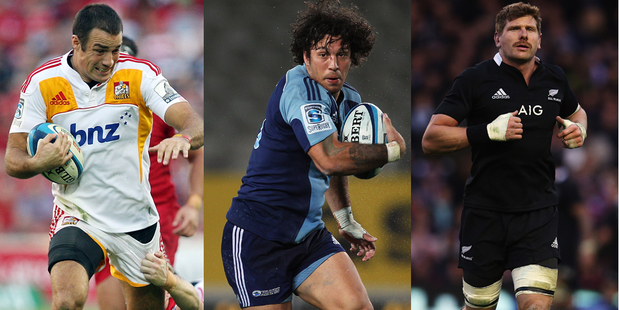 First it was Richard Kahui, then Adam Thomson and now, reportedly, Rene Ranger.
The three All Blacks are on their way overseas, having signed enticing deals over the past three weeks to play club rugby in Japan and France.
The concern for All Blacks coach Steve Hansen is that the option of defecting from New Zealand rugby is becoming more and more popular.
There is also the issue of the sabbatical. Conrad Smith and Dan Carter look set to follow the example of Richie McCaw by taking a break from international rugby at the end of the year, but with three top players on their way out, the already depleted All Blacks stocks are in danger of running even lower.
Hansen is known to be in favour of the senior players' sabbaticals, allowing them timeout to refresh and invigorate before coming back to have a crack at defending the World Cup.
But the current trend of top young All Blacks heading overseas to ply their trade is a more worrying one, with the future-solidifying, big money contracts proving too enticing for many of our best players to turn down.
Nzherald.co.nz takes a look at six players who are going, going and gone.
Rene Ranger (France)
Sky TV's Reunion programme last night reported that the Blues centre and three-test All Black will leave for France at the end of the season to play for Montpellier.
Ranger has not played for New Zealand since 2010 but the 26-year-old, had a great chance of returning to the All Blacks fold this season in the absence of Richard Kahui (Japan), and Conrad Smith, who is expected to take a sabbatical at the end of the year.
Ranger's clash with Crusaders opposite Robbie Fruean at Eden Park on Saturday night was said to be a precursor of things to come but it seems he sees his future elsewhere.
"I'd hate to see him go but it's just one of those things you have to try and manage. Hopefully he gets that silver fern back, that's the best way to keep him," - Sir John Kirwan.
Richard Kahui (Japan)
Two weeks ago Kahui announced his decision to play rugby in Japan, without consulting All Blacks coach Steve Hansen.
Hansen said he was disappointed and frustrated that he didn't get a chance to talk to the midfielder, and said he's taking a "big risk" if he wishes to wear the All Black jersey again.
Kahui will head to Japan to play for the Toshiba club for two seasons at the end of this year's Super rugby season.
The 27-year-old, who missed the international season last year after shoulder reconstruction - his fourth - is an outstanding test player at either centre or wing and the All Blacks view him as a critical part of their armoury.
The two-year Toshiba deal will enable him to return to New Zealand to play Super rugby in 2015 and possibly push for a World Cup place.
He's heading to Japan after four shoulder reconstructions in six years. That's been enough for him to make the call to cash in while he's still able to; he fears his body won't cope with more Super Rugby beyond this year. - Gregor Paul
Adam Thomson (Japan)
All Blacks flanker Adam Thomson confirmed the inevitable last week, signing a two year deal to play in Japan with the Canon Eagles.
The 31-year-old, who played 29 Tests for All Blacks had been unsettled for months after he wasn't included in the 2013 Super Rugby system despite being picked for the All Blacks end of year tour to Italy and Britain.
"I just had this feeling I had done what I wanted to here and it was time to look around for something new."
"I love the Highlanders and love the region and it has been a pretty special place for me over the years. But at the end of the day, I have made a decision for the future." - Adam Thomson
Richie McCaw (Sabbatical)
McCaw has activated a clause in his New Zealand Rugby Union contract which allows him to take a six month break and he will not be available for the Crusaders or the All Blacks until after June.
The physical and mental strain of professional rugby began to tell on the All Blacks captain, and the break is aimed to rejuvenate him and set him up to lead the world cup defence in 2015.
Dan Carter (Sabbatical)
The pulling power of Japanese rugby will be tested on Carter at the end of the year with a stint in the land of the rising sun looking likely.
Carter is understood to have rejected the advances of French giants Toulon and Racing Metro who were desperate to sign him for six months this year and he has made it clear that if he takes a sabbatical, it will be in Japan.
The Herald on Sunday reported that Carter is exploring the possibility of playing in Japan after the All Blacks end-of-season tour. New Zealand will play only three tests in November, leaving Carter a window to enjoy a season in the Japanese Top League from November to February.
The star first-five hasn't made any decisions yet on whether he will invoke his sabbatical clause, but it is believed that if he does, his preference will be to play off-shore rather than follow Richie McCaw's lead and take time away from all rugby. Carter is a touch and confidence player and tends to be at his best when he plays for sustained periods.
Conrad Smith (Sabbatical)
Smith made his All Black debut in 2004 and has matured into arguably the world's best centre. But his body has taken a pounding.
In a similar vein to Richie McCaw, Smith is set to rest, travel and re-condition at the end of the year before returning to play in the 2014 Super Rugby competition.
He will play for the Hurricanes this year, be available for the June tests and Rugby Championship but will not take part in the third Bledisloe test or three-match end of year tour.
The lure of Japan: Six of the World Cup champion All Blacks that have played in Japan since 2011.
• Brad Thorn: Joined the Fukuoka Sanix Blues in October 2011 and played two seasons for them before agreeing to join the Highlanders.
• Mils Muliaina: Signed with the NTT Docomo Red Hurricanes in April 2011 and joined them after the World Cup. Was chased hard by the Blues and Chiefs to return for this campaign but was unable to gain an early release from his contract.
• Ma'a Nonu: Was granted a sabbatical by the NZRU after the World Cup and took it in Japan, playing for the Ricoh Black Rams.
• Jerome Kaino: Was in heavy global demand after the World Cup but turned down Toulouse and the NZRU to sign a two-year deal with Toyota, who are reportedly paying him $1.1 million a season.
• Sonny Bill Williams: Was offered $1.5 million to play one year with the Panasonic Wild Knights. It was money he couldn't refuse.
• Richard Kahui: Announced two weeks ago that he will be joining Toshiba on a two-year deal after Super Rugby.
-nzherald.co.nz