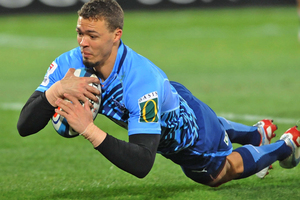 The 2013 Super Rugby season kicks off tomorrow night, so if you haven't already, be sure to get your Fantasy Super Rugby team in for round one.
Fantasy Super Rugby allows you to select a dream team based on the real-life performance of Super Rugby players. You earn points for tries, conversions, metres gained, tackles and more.
Fantasy Super Rugby is new to NZ Herald this year so we thought we'd give you a few tips on managing your team to help increase your chances of a successful season.
1. Plan your transfers
You can only make up to four transfers per round for the first 20 rounds, eight transfers for the quarter finals, ten for the semis and five for the final so it means you need to plan your transfers and use them wisely.
Keep an eye out for Bye rounds and look ahead to ensure you plan your transfers accordingly.
Round one makes this difficult as only Australian teams (Rebels, Reds, Brumbies and Western Force) are playing. You may want to upweight the number of players from the Australian teams you think are likely to win this weekend, but it is a fine line as you don't want only Australian players in there for round 2.
2.Budget, budget, budget
You'll have a fantasy budget of $95 million for the season. You may want to monitor the latest news fairly carefully, as well as the player stats (published weekly online) to ensure players are on form/ not nursing injury etc.
Remember too there are some excellent players who aren't 'big names' that will provide great value for money.
Select your captain carefully as they are worth double points.
3. Try scorers
Having some try scorers in your team is important - especially if they're forwards as you'll score 10 points for a try. One strategy is to pick players likely to score against teams with poor defence. This of course, will become more obvious as the season progresses.
The highest ranked try scorers from last season are:
Player - 2013 Fantasy value (Start of season)
Bjorn Basson (Bulls) - $10,000,000
Andre Taylor (Hurricanes) - $9,000,000
Ardie Savea (Hurricanes) - $4,500,000
Gio Aplon (Stormers) - $10,000,000
Lwazi Mvovo (Sharks) - $9,000,000
Dom Shipperly (Reds) - $9,500,000
Henry Speight (Brumbies) - $9,000,000
Willie Le Roux (Cheetahs) - $8,500,000
TJ Perenara (Hurricanes) - $8,000,000
Conrad Smith (Hurricanes) - $9,000,000
Asaeli Tikoirotuma (Chiefs) - $9,500,000
Cooper Vuna (Rebels) - $8,500,000
4. Newbies and weak teams
Historically new teams receive a bit of a thrashing in their first year of Super Rugby. Bear this in mind - it may be worth up-weighting your team with players from whichever team is playing the Kings in any given round.
After a few rounds you'll be able to use the same premise against consistently weak teams too.
5. Last minute check
Players get injured in training, get cited for on and off field activity or are put on the bench or dropped for a plethora of reasons.
If you get a chance, remember to check in prior to 9pm this Friday and 6pm each Friday thereafter (NZ time) to make any last minute changes to your team.