Sonny Bill Williams has created a stir in Japan, even though his playing time has been minimal, writes Michael Burgess from Tokyo.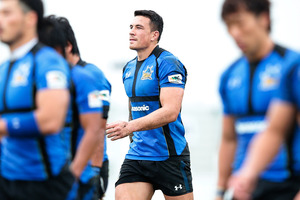 It's a familiar scene in a particularly unfamiliar place. Sonny Bill Williams, the human headline, surrounded by fans clamouring for autographs and photos. But this is Japan and the queue, which stretches more than 100m, is precise and orderly.
To get a taste of the impact of Williams' stint in Japan, which has seen him play just seven games due to injury, you need to travel two hours north of the capital to the small provincial city of Ota. It's a nondescript place - many residents of Tokyo might struggle to find it on a map - but is the home of car giant Subaru and the Panasonic Wild Knights.
Today is match day at their modest stadium, with perhaps 4000 fans in attendance. During the game against NTT Docomo, Williams sits on the concrete terraces with the rest of the non-playing squad, watching his team-mates dismantle the Osaka-based team.
Their opponents will remain rooted to the bottom of the table - and it's a bad day for Mils Muliaina, who leaves the field at halftime with a badly injured hand - but hundreds of NTT fans have made the four-hour journey north.
"They knew they would get smashed but they still came," says Williams. "The support here has blown me away."
The halftime entertainment is unintentional, provided by a local spectacles company giving away their product to some lucky ticket holders. Throughout the game, the enthusiastic ground announcer keeps everyone informed, using a mix of Japanese and rugby English.
After the match, players then mingle with fans on the field and Williams wanders down to join them. His arrival creates a stir.
Lynsday Cootes, teaching here but originally from Montana joins the line among hundreds of Japanese, after coming to see rugby and all the fuss about this "Bill guy". Each time the line starts to diminish, more join, as mothers thrust babies at Williams to hold.
"Clubs expect a return on their investment, especially with these short term deals," says former Suntory and current Japan coach Eddie Jones. "Sonny recognises that, which is important."
"You have to appreciate the effort that the fans are making," says Williams. "It's a bit isolated up here [in Ota] but the supporters really love their footy."
Inside the clubrooms on this freezing afternoon, the after-match function, with sandwiches, fish and chips and luke warm Asahi beer, is drawing to a close but Williams remains out on the track for more than an hour as fans collect mementoes.
TWO DAYS later, we are back at Panasonic Wild Knights headquarters on the other side of Ota. It's a plush complex, with two well manicured training fields and a full gym and physiotherapy area, including a newly purchased oxygen chamber and a traditional Japanese onsen.
Beside the communal eating area and offices upstairs there are 'Master Hands' massage chairs and a digital darts machine, while different jerseys dating back to 1960 (the club's inception) are on display in glass cases.
After humble beginnings, Panasonic (formerly Sanyo until 2010) have been one of the powerhouse clubs of the past decade.
Panasonic's sports division is well funded but belts are tightening - recently the company badminton and baseball teams have been downgraded to basically amateur operations. Their pursuit of Williams was a response to rivals Suntory luring Jacque Fourie, George Smith and Danie Roussow in recent times.
"Sonny Bill coming to Japan was quite a surprise," says JRFU chairman Tatsuzo Yabe. "To get one of the biggest names in the world to come in his prime has been great for rugby here."
Media interest has been substantial and crowds have been boosted, especially for matches in Tokyo but his on-field impact was minimal. He struggled in his first few games to live up to his reported $100,000 a week contract and the team suffered a couple of unexpected losses but have since fought back to the cusp of the top four.
"He was doing everything he could but perhaps trying too hard," reflects veteran Japanese rugby journalist Rich Freeman. "He struggled a bit to fit into the team pattern."
"I think I've played some of my best footy here," counters Williams of his seven game stint. "I worked hard to get the the respect of the boys - you don't just show up and collect your dough. Being here has definitely improved me as a rugby player. You have to do things in an unconventional way compared to how I was playing in New Zealand and the ball is in motion a lot more because the game is so fast. So your skills have to improve."
He isn't shy admitting the lure of the lucre but says that is only one factor.
"People say 'oh you came over here for the money' - which is true, I did come here because it was a massive deal and any bloke back in New Zealand probably wouldn't have turned it down," says Williams.
"But wherever I go, I want to get better as a player. Here, they are not really recognised on the world stage but they still probably work much harder than the majority of the boys back home."
Despite his star status, Williams has been quick to fit in. He arrived with a pile of All Black kit - which was immediately distributed on day one - and has brought a bit of bro-mance to the place, making special handshakes with each of the local players.
"The Japanese players do enjoy the famous players, so there would have been a bit of anticipation about him getting here," says long-time Panasonic player and current coaching adviser Tony Brown. "But he has been just one of the team and is always talking and joking with the Japanese boys. He helps the young guys and does everything a foreigner here should do. It is great to see him involved with the team, even though he can't play, and that will rub off on everyone. Japanese players pick it up straight away if you are not putting in 100 per cent."
"Everyone has enjoyed the new culture," says Panasonic and Japan winger Akihito Yamaha. "Even with the handshakes, it is something that you never normally see in Japan. He plays rugby differently to most players and people notice him straight away. I know he has only played a few games but I think his impact was huge, not just on us, but on the players in the other teams as well."
"It has been great to watch how he trains," says Panasonic captain Seiichi Shimomura. "You notice how he prepares, talks and acts off the field - he is a great role model for a professional rugby player.
"Along with the other foreign players, he has lifted players' mindsets and standards to try to get to where he is. He has also helped to publicise rugby, as he is a famous name."
Entertainment options are limited in Ota but there are regular team barbecues and they often eat together at a nearby restaurant, which has created a dish called "Bill don" in his honour.
"It's basically barbecue chicken on rice," says a team representative, "and very popular."
The team also have frequent karaoke sessions, though Williams, who calls himself more of a "background man", has been overshadowed by fellow imports Mike Delany and Daniel Heenan.
Like most visitors, he adores the food - "the best I've had anywhere" - and marvels at the touches of technology. At the local sushi restaurant, beer is dispensed by a machine at the bar, including an automatic tilt to allow the perfect pour .
Ota is two hours from Tokyo but a world away from the bright lights.
It seems to suit SBW. Apart from the occasional rugby fan, he is anonymous here.
Williams lives just five minutesfrom the Pana-sonic club grounds, sometimes walking to training, and he enjoys the anonymity.
"Over here, you are away from everything," he says. "It is really peaceful ... I don't know ... maybe I am getting old but it suits me at the moment.
"They have great facilities here and you can work here, do your stuff and there are no distractions. As long as you are working hard, that is all they ask.
"My biggest fear is knowing that sometimes you are going to fail and not being too hard on yourself when you do."Michael Burgess travelled to Japan with the assistance of the Asia New Zealand Foundation.