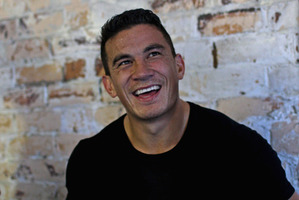 The Warriors are set to play at Eden Park in round two of next year's NRL season - and the Roosters, with Sonny Bill Williams, loom as the most likely opposition.
In a departure from previous practice, the Auckland club are likely to open their campaign away from home, believing that is the best strategy to begin a long season.
If the Warriors secure the Roosters as their Eden Park opponents - they are understood to have made the request and are confident it will be granted - they are bound to be a big drawcard. Apart from the lure of Williams (currently under an injury cloud) there is a return to Auckland for James Maloney as well as Kiwi stars Jared Waerea-Hargreaves, Frank-Paul Nuuausala and Shaun Kenny-Dowell and hot prospect Roger Tuivasa-Sheck.
The advantages of playing in Australia in the first round were highlighted after the lengthy review of the disappointing 2012 season. The club had to play back-to-back away games three times and coped badly, winning only two of those six games.
Kicking off away slightly reduces the load later in the season, allows the team to come into one away game fresh and increases the chances of a home game to finish the year. It will also lessen the hype going into Matthew Elliott's first game.
Their opponent for that first game of the season is not known but it won't be the Broncos, Cowboys, Rabbitohs, Roosters, Raiders or Storm. It is therefore likely to be a Sydney club, unless it is the Knights or Titans (which would be a repeat of the 2010 season opener).
Another feature of the NRL draw, which should be released by the end of this week, will be a Warriors 'home' match outside Auckland. The location is yet to be confirmed but insiders say the club have had "a lot of interest". Wellington Stadium is an obvious contender, though the pre-season match in Dunedin (versus the Broncos) might be a good litmus test of the appetite for the 13-man code in the deep south.
They are likely to also have another trip to Perth after that infamous game against Manly last season, which many saw as the death knell to the Warriors' hopes in 2012. It won't be the Sea Eagles this time but will be a Sydney club.
Meanwhile, the proposed pre-season clash between the Roosters and Tigers in New Zealand now looks unlikely. Former coach Tim Sheens, who has vast experience of bringing teams to New Zealand for trial matches dating back to the early 1990s with the Raiders, supported the idea and was one of the main drivers - but he has been replaced by Mick Potter and the possibility seems to have faded.