Journey from Holland to Murrayfield is about a man with talent and ambition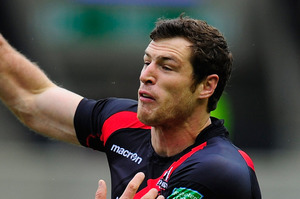 The journey of Tim Visser from Holland to Murrayfield where tomorrow he will start on the left wing for Scotland challenges feelings of ill-will some hold about the three-year residency rule.
Test football's credibility is stretched by those nomads who earn their eligibility simply by settling in one place for three years before usually drifting off in search of their next pay cheque. But Visser, although he emerged through this very route, somehow seems different, acceptable: almost noble even.
The 25-year-old was born in the Dutch town of Zeewolde to a rugby nut father who became the Netherlands' most capped player. Visser, rather handily physically equipped at 1.93m and 109kg, came to love this strange game that was in his father's soul and was packed off to an English boarding school to hone his skills.
He cracked a spot in the England secondary schools team - at lock - and after a few seasons playing professionally for Newcastle he was signed by Edinburgh in 2009.
His impact was immediate - coming off the bench to score a hat-trick in five minutes - an astonishing strike rate that he has continued.
He has been the RaboDirectPro12's leading try scorer in each of the last three seasons and has touched down an impressive 43 times in 74 games for his club. It was absolutely no surprise then that when he did become eligible for Scotland on June 12 this year, he was rushed into the team where ... he scored two tries against Fiji on debut.
Direct, confrontational and quick, Visser is a handful. He's being viewed as a possible British Lion in Australia next year and his opposite tomorrow, Cory Jane, was moved to do some research on the big Dutchman.
"I had to YouTube him," says Jane. "I thought that if I was going to be in this team (All Blacks to play Scotland) I'd better see who I might be up against. He's a big boy - it is actually getting ridiculous how big some of these fellas are.
"He's new to international rugby but he scored a lot of tries at club level on the YouTube stuff I was watching. It will be interesting to get a go at him, but in international rugby you only get one or two opportunities one-on-one with your opposite man."
Visser will no doubt be delighted if he does indeed get just one opportunity. Scotland have struggled to generate width in recent seasons and his supply of ball may be limited.
But he won't necessarily mind if the game doesn't come his way. His dream is being fulfilled - as a child he wanted to be just like Jonah Lomu. The great All Black was an inspiration and he longed to one day play test rugby against New Zealand.
Clearly, that was never going to happen if he stayed in Holland and this is where the residency ruling has a valid and almost uplifting role to play. Visser is not some disgruntled New Zealander who spent a few years trying to crack the All Blacks before selling out to a foreign club and the prospect of three years later serving a nation for whom he feels nothing.
This is a man from a rugby backwater whose performance tomorrow could do unimaginable good in growing the profile of the game in Holland. Visser doesn't seem mercenary or self-interested and the Scots appear to view him as indisputably theirs without a hint of resentment in the way a few non-Scottish selections have irked in the past.
The Scots have seen the value of going Dutch.