New Zealand's Super Rugby sides now boast an embarrassment of riches at halfback.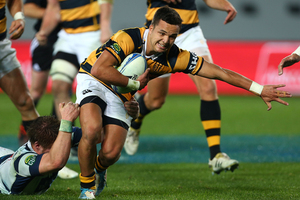 A few years ago, it was easier to find famous Belgians than it was quality halfbacks.
On Wednesday, when New Zealand's franchises unveiled their squads for next year, it was impossible not to notice how many quality young halfbacks there are across the country.
In recent years, the barrel ended up being scraped to fill all the berths; looking back, it's apparent there were players offered contracts who really weren't Super Rugby standard. But that's how it had to be back then - there just weren't a lot of good No9s around, to the extent that Auckland even ran specialist coaching clinics for halfbacks and first-fives to try to up-skill the most promising contenders.
Now the landscape is astonishingly different: the Highlanders have two international halfbacks in Aaron Smith and Japan's Fumiaki Tanaka. The former would be among the top three in the world.
The Crusaders have the ever-youthful Andy Ellis and the improving Willi Heinz; the Hurricanes have TJ Perenara, the Chiefs Tawera Kerr-Barlow and the Blues two young firecrackers in Bryn Hall and Jamison Gibson-Park - both of whom could apply pressure on Piri Weepu.
The depth of quality is best illustrated by how far down the pecking order former All Black Brendon Leonard sits. It wasn't that long ago Leonard was starting for the All Blacks and now he'd barely be in the top 10.
There is, however, more to note than just the volume of quality players. There has been a revolution of sorts - the preference for ponderous yet supremely physical No9s has died. Instead, the smaller, passing halfback has become the player of choice. There has been a mass realisation that things work best when halfbacks are able to get to the ball quickly, get their hands on it and whip it away.
The old belief that halfbacks needed to step away from the ruck before clearing the ball is no longer widely held. Smith, in particular, has shown that as long as the forwards cleanout well, the halfback can pass from the ground.
As a result, the physicality of the role has been reduced and the aerobic and skill demands increased. Halfbacks have gone back to looking like halfbacks - Smith, Tanaka and Gibson-Park will be the three smallest men in the competition and it wouldn't be a huge surprise if they end up being the three best in the competition.
Smith and Tanaka are already international players and Gibson-Park may not be far behind. His cameo appearances for Taranaki this year were a highlight of the ITM Cup and, as he's almost exactly the same dimensions, he was inspired by the performances of Smith on the international stage.
"That was actually quite big for me seeing Aaron out there doing it for us smaller guys," says Gibson-Park. "He showed that you don't need to be a big halfback to make it to the top level these days.
"It [size] has definitely been an issue. Coming out of school I was 67kg. Now I am 80 - so I have had to put on quite a bit of weight and there is more to come yet. It has been a huge transition for me trying to put on that weight and maintain my speed and fitness. But you know, seeing Aaron Smith playing for the All Blacks ... that is pretty inspiring."
Gibson-Park will tour the UK with the New Zealand Maori and then begin the serious business of pre-season training, where he hopes to gain another 5kg. Interestingly, he will find himself competing against Hall, the man who kept him out of the New Zealand under-20 side this year. Hall, now 20, captained the age-grade side and is a taller, more robust athlete but similarly inclined in style. He's another natural passer; another aerobic machine who wants to be at every ruck with his hands on the ball.
"Aaron Smith coming into the All Blacks has changed the dynamic for New Zealand halfbacks," says Hall. "I'm a bit taller but I definitely have that desire in my game to get the ball away quickly, to rip it out as fast as I can and try to get it to the outside backs to give them as much time as I can. I have also watched a bit of Tawera Kerr-Barlow. He's a guy I have tried to pick up a few things from as well - he and Aaron are the guys I have looked to.
"Halfback core roles are pretty simple really - it's box kicking, passing to the first-five and being able to defend. We had Jimmy Cowan, Byron Kelleher and Justin Marshall but it has gone back to the Graeme Bachop kind of way."