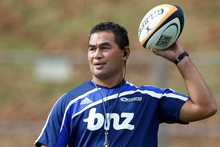 Victory, anything for a victory. The refrain grows louder for the Blues as they wonder whether that target will be an oasis or another mirage at Eden Park on Friday.
They face the Lions in a Duel of the Desperates as sides who have been unable to accrue more than one win this year.
The Lions won their opening game of the season and then nothing. Meanwhile, it's been 59 days since the Blues claimed their lonely win against the Bulls and 68 days until the end of their round-robin run.
It's an exacting time for the staff and players but coach Pat Lam remains bullish about the rest of the schedule.
He reasons he has to stay upbeat as an example for his side. If he was gloomy and gave the impression he had given up then that mood would infect the Blues.
"I have not lost the dressing room, you can ask any player," he said.
He had to front and when the group were together, they were united even after their rotten results run.
That rapport did become frayed when they ventured into the public arena, talked to friends or followed what was being said in the media.
"I am pleased with what I see from some of these guys who are under serious adversity. I want to make sure I make a difference for them all, especially a lot who have not been here before," Lam said.
He may get senior loosehead prop Tony Woodward back from the medics room this week but Chris Lowrey is out with concussion and captain Keven Mealamu and George Moala remain on the doubtful register.
Mealamu was still troubled by a calf muscle strain and his absence was starting to cause a little bit of anxiety, with the All Black test programme looming closer.
"His mind is willing but the body is not quite there," Lam said of his seasoned skipper.
The Blues' coach was quizzed once more about whether he had thought about standing down or had made that offer to the Blues' board. His answer was a negative on both counts.
He did not want to speculate on his future, that was beyond his control. If he worried about a lot of issues his gloom would infiltrate the dressing room.
He had not had any talks with the New Zealand Rugby Union or the Blues' board about standing down or using an alternate coach.
All he could do was continue to work hard to try to rectify the range of small issues which had combined to cause problems.
"Again if we had an absolute mutiny, if things were falling apart and I had lost the dressing room and they had told me ..." he said.
Lam had been in those situations as a player and knew what they were like.
The new All Black panel of Steve Hansen, Ian Foster and Brian McLean are visiting the Blues and interviewing prospective test players. Sir Graham Henry is also interacting with the squad and offering advice. "He is another voice, another insight," Lam said of his long-time mentor.
"He has real feel for this environment, the team and the players and the reason he is good is he is like a consultant. He will ask the right questions and challenge the guys and ourselves."
Lineouts and defence were the major areas of concern in the latest loss to the Hurricanes.
The Blues won five of their lineout throws, while missed tackles, dropped ball and wrong decisions were all signs of a side, Lam said, that was low on confidence.
What was his confidence like, what was his future rugby path?
Lam said he was working as normal, coaching and mentoring the Blues and looking at the playing roster for next season.
A contracts committee of the Blues coaches, chief executive Andy Dalton, board chairman Gary Whetton and high-performance boss Nick Sheppard would draw up lists of players they wanted to contract or have in the Blues this season.
"We have a good feel of what we currently have, what's coming through development and what's on the market. It's the same as all the other franchises, when you go through it and work through it," Lam said.
Each week players' plans altered but Lam was reluctant to suggest the Blues' roster would be cut drastically.
"I wouldn't say a cleanout's inevitable," he said. "It's always a case-by-case situation."
By Wynne Gray

Email

Wynne