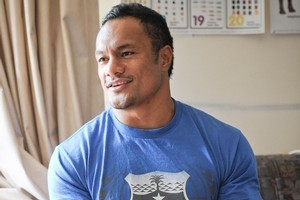 The Independent Judicial Officer upheld misconduct charges against Eliota Fuimaono-Sapolu at a hearing in Auckland today.
Judge Jeff Blackett from England heard detailed evidence from the Manu Samoa player and his representatives about alleged breaches of the Rugby World Cup 2011 tournament disciplinary programme and the Rugby World Cup/International Rugby Board code of conduct for comments Fuimaono-Sapolu made about referee Nigel Owens on Twitter.
Fuimaono-Sapolu wrote on Twitter that Owens was racist and biased after controlling Samoa's tournament-ending 13-5 loss to South Africa on September 30, and slammed the IRB for giving second-tier teams less rest between matches than the top-ranked teams in the World Cup.
Blackett decided Fuimaono-Sapolu's comments impugned on Owens' integrity and reputation both as a referee and as a man.
Although Blackett recognised Fuimaono-Sapolu might have been angry or emotional when making his initial comments on Twitter, it did not justify his offensive behaviour towards the referee.
Blackett said there was "absolutely no evidence that the referee was biased in the sense that he deliberately favoured one side or the other. To suggest that Nigel Owens is racist against Samoans is also completely inappropriate."
Blackett imposed a six-month suspension.
However, the suspension will be delayed for two years if Fuimaono-Sapolu offers "a full and unconditional apology to Nigel Owens and unconditional retraction of any criticism of him"; completes a minimum of 100 hours rugby community work in Samoa in support of the IRB high performance programme within the next 12 months and attends and passes a recognised referee course within the next three months.
If Fuimaono-Sapolu fails to comply with the conditions or makes any public criticism that results in a proven misconduct offence regarding a match official, the IRB or the disciplinary process, his suspension will be activated immediately.
Fuimaono-Sapolu has a right of appeal within 36 hours of notification of the written decision.

- APNZ