Trio apologise to Dunedin woman, and Tindall admits he didn't tell the full story.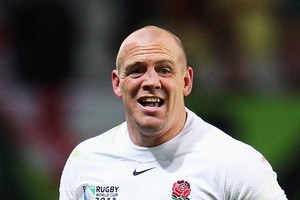 Three England rugby players have been forced to apologise to a Dunedin woman after making lewd comments to her in a hotel.
And it has been revealed Mike Tindall didn't tell the whole story about his infamous night in Queenstown.
James Haskell, Dylan Hartley and Chris Ashton were reprimanded by manager Martin Johnson and forced to apologise to Annabel Newton after an incident at Dunedin's Southern Cross Hotel on September 9.
Miss Newton told UK newspaper the Mirror she was called into the room at the team hotel to get her walkie-talkie, which had been pinched by one of the players as a joke.
"I was a joke to them. Afterwards they couldn't understand what they did wrong.
"Those players treated me with no respect," she told the newspaper.
Ms Newton was working as a conference attendant, looking after the team during their stay in Dunedin, when she was called to the hotel room to pick up the radio.
"Dylan opened the door, wearing just a towel. He said there's no one else here, come in and look for it."
She then noticed Ashton and Haskell were also in the room.
"I remember saying, 'Please, give me the radio, I have to get snacks and let the kitchen know what food to prepare'."
She reported the incident and after a meeting involving her lawyer, the players were forced to apologise.
Meanwhile, Tindall is said to be in further hot water with new wife Zara Phillips, the Queen's granddaughter, after new details were revealed about his night out with a mystery blonde.
Tindall was spotted with the blonde at the Altitude bar and became the centre of a scandal when bouncer Jonathan Dixon posted footage of their liaison on YouTube.
Tindall initially said he left Altitude and went back to his hotel.
But yesterday he admitted he carried on to a second bar, Cowboys, with the woman and other England players.
Johnson told the Mail on Sunday newspaper that any misleading information Tindall gave as to his whereabouts that night was a simple mistake and "not a cover-up".
"If he was inaccurate in his recollection of the events of the night and his specific whereabouts, he certainly didn't mean to mislead anyone.
"It was not an orchestrated cover-up.
"It was simply an error on his behalf which he apologises for ... His recollection is wrong of where he's been, and the order he's in there, and that is what it is."
- Staff reporter