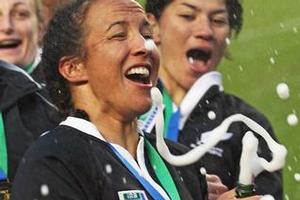 World Cup-winning Black Ferns captain Farah Palmer has warned the NZRU's decision to axe the women's NPC could "kill women's rugby".
Palmer recently telephoned Neil Sorensen, the New Zealand Rugby Union's general manager of professional rugby, to get clarity around the rumour that the women's NPC was going to be disbanded.
"He said the decision had been made that it was to go," Palmer said. "It's very disappointing. I know the NZRU was under pressure to make budget cuts but I know from past experience that when a competition is cut it is hard to get it on the agenda again.
"In the long-term it will kill women's rugby."
What stuck in the craw for Palmer was the literature emanating from NZRU head office in recent years, which stated that in order for rugby to remain the number one game in New Zealand "that means ensuring that everyone who wants to play, can play".
"Well, that didn't really apply to women, did it," said Palmer, who lifted the Cup at three world championships.
The 37-year-old, who has a PhD in sociology, is on the board of Maori rugby, but remains concerned that women's rugby had no strong advocates within the NZRU.
The evidence of what happened when the women's NPC was cut from two divisions to one should have proved how vital a national competition was. Women's club rugby in the areas that were suddenly left without a representative team basically died.
In Counties-Manukau and North Harbour there is now just one club team following the disbanding of the provincial team.
To make matters worse, the Black Ferns are preparing to defend their word title in England in August this year and coach Brian Evans will have a far tougher time assessing form.
Chantal Baker-McKittrick, a development officer at Auckland rugby, remains cautiously optimistic about the future of women's rugby, even if she is disappointed at the decision.
"I don't think it's the death of women's rugby," she said. "We have to look at it as a year off; we have to look at innovative ways around it. At school and club level are numbers are still good."
However her optimism is not shared by the provincial coach, who now suddenly finds herself former Auckland Storm coach.
"This decision will be the end of women's rugby. Simple as that," Davida White, a former Black Fern, said: "The girls will play league and netball now. There's no incentive to play for your clubs, so the clubs will die.
"The NZRU should know what is going to happen. They only need to look at what happened in the areas affected when they cut the second division. Women's rugby died there."