All Blacks 33
Australia 6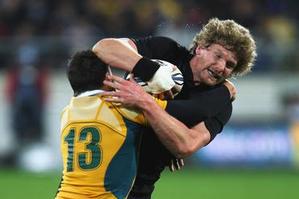 On a night when the All Blacks finally cut loose and patched up their lineout, it might seem odd to hone in on their defence as the highlight of the test.
But that's where this All Black performance began and the intensity of their tackling filtered through the side.
The Wallabies couldn't go anywhere - across the field there was a black phalanx. It was relentless. The organisation was superb and technically the hits were bang on the money.
Tony Woodcock led the way when he clobbered Rocky Elsom early and the standard was set. That same intensity carried into the breakdown where the Wallabies had no idea what had hit them.
It was men against boys. The foundation stone Graham Henry craved the previous week was finally laid. And with it came the expansive football to which his side aspires.
It's like he said last week - it's a simple business. Get the set piece right, get the forwards on the front foot and it's all on.
"I think the guys played well in all facets of the game," said Henry. "There has been huge pressure which I think you can understand and the players responded to that.
"We had structure from good, first-phase ball.
"I thought the work in the tackled ball area by all the forwards, but especially the loose trio, was exceptional.
"We also defended very well ... Around the rucks and when we were stretched we worked very hard."
It was no surprise to hear Henry make special reference to his loose trio. The winning combination may finally have been found. Adam Thomson's shock of blond hair was everywhere and he raised the energy levels around him. Kieran Read didn't stop running - he was Rodney So'oialo with better hands. Maybe No 8 is his best position.
The added advantage from Thomson was height; both he and Read made a solid contribution to an improved lineout performance. It was always going to be improved - it couldn't possibly have been any worse than it was Hamilton - but it was a question of degree.
Arguably, the All Blacks did much better than even they dared to believe but assistant coach Steve Hansen stayed in the changing sheds rather than field questions. The beleaguered forwards coach has been under siege all week, leaving Henry and captain Richie McCaw to do his talking.
"We kept the belief," said McCaw. "The things we got wrong last week weren't major and we had to have the belief to get the little things right. The important thing was that we didn't panic and we got the ball we needed."
It helped, immeasurably, that there was no Victor Matfield. It also helped that Australia were not only woeful but played a style the All Blacks are far happier encountering.
"South Africa are the best side in the world right now," said Henry, making sure no one could construe his thinking as disrespectful. "They are a side that doesn't play much rugby but they put you under enormous pressure and we can't handle that pressure at the moment, especially when we can't get first-phase ball.
"But when you get two sides who are playing a bit more rugby, I think you get a better spectacle and our guys enjoy that more. We made a lot of mistakes last week that we didn't this week so it is different styles and different pressures."
Certainly the Wallabies know about pressure now. This was their fifth defeat in six Tri Nations tests and coach Robbie Deans found it hard to take.
"As we alluded to prior to the game, you have to earn your stripes in every outing," he said. "We got ahead of ourselves. We were thinking ahead before the job was done.
"The most disappointing thing was that we capitulated when the game had gone.
"That was disappointing because that was one thing we really didn't want to do."