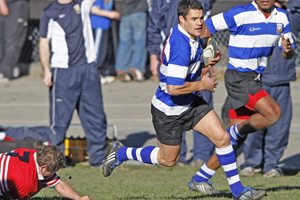 The sausages were sizzling, the gold-coin programmes flying out faster than they could be photocopied.
"Hornby champagne" - pre-mixed bourbon and cola drunk from cans - was being quaffed by the dozen.
Denton Park yesterday became the epicentre of the rugby world - well, New Zealand, anyway.
This old suburban ground in Hornby, the heart of Canterbury rugby league country, hadn't seen this much excitement since parents took their scabby-kneed kids there to watch Commonwealth Games track cycling, 35 years ago.
The reason: Daniel Carter, newly minted Southbridge No 10, appearing in his first senior club match.
Anyone expecting that Southbridge - population 900 at last count - would provide a fast-track back to the national side should prepare to be disappointed. "I'm not thinking about the All Blacks," said Carter. "Whatever happens, happens."
Carter will slot into the Canterbury Air New Zealand Cup team but there was one man, at least, proud as punch to see Carter in the blue-and-white hoops.
Neville Carter, Southbridge coaching convenor, club committee representative and bar manager, as well as father of the day's main attraction, had the honour of presenting his boy with a club tie for his first senior game.
"This is the first time he's played for them since 2001 when he played in the 125th jubilee game for a Southbridge Invitational team. It was great to see him out here today having a bit of fun."
Carter snr said his son had been enjoying the week with "the boys", even having a few on Thursday, "which was good for the local publican".
"It's been good for rugby," he reckoned.
Dan thought so, too. "It was a lot of fun. It was good to be back playing some rugby. It's been a long road to getting the boots back on and having a game, so I really enjoyed it."
And the multi-million-dollar question: How was the Achilles he ruptured in January while on "sabbatical" with Perpignan?
"No worries at all. It was fine. It was tested a bit on the muddy ground but no problems."
Carter defied predictions by playing all 80 minutes, scoring a try and drop-kicking the conversion to end a match dominated by Southbridge 34-13.
His day might be remembered, though, for him missing four from four shots at goal in the first half.
The mischievous might say there was a whiff of scandal on his mind. A story on the eve of the match involved a Trade Me auction of photos of Carter that were, apparently, "more racy than a racehorse".
Carter's people were obviously treating it seriously. He was instructed to say nothing and his management issued a statement saying it was disappointing a "hoax" had been given publicity.
But in rugby parlance, at the end of the day, this match was about more than Carter, even if it didn't seem like it at the time.
This was a match for the everyman, the joiner, the welder and farmers who have never had the opportunity to play in front of a crowd that swelled to about 3000.
"She's a hell of a lot more than we normally have," said Hornby captain Steve Lees-Goodwin.
Hornby made the most of the occasion and postcard-perfect day. The adjacent soccer clubrooms were turned into a VIP lounge where, presumably, very important people drank jugs of beer and full-to-the-brim glasses of the house chard.
Even a leather-clad miscreant who looked a candidate for the nearest rehab centre couldn't spoil the day by patrolling the sideline, barking orders as if he was the assistant coach.
If anything, it made you realise you were a million miles from Twickenham. And the sausage sizzler was a busy man. How many did he sell?
"I don't know - f***ing heaps."