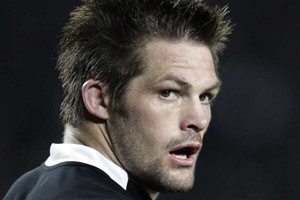 All Black captain Richie McCaw will become the first All Black to play 100 tests, when he lines up against France at Eden Park on Saturday night.
nzherald.co.nz asked New Zealand rugby greats and our own rugby writers to rate his career.

Buck Shelford - former All Black captain, 1987 World Cup winner
McCaw as a player: What hasn't he done? He's won everything. He's done a lot in his short career. His longevity as a player has been outstanding considering he gets bashed up as a captain. Rating: 10/10
McCaw as a captain: I think he's a very, very good captain. He's the type of guy that every mother and father would want their daughters to marry. He's successful, good-looking, a real down-to-earth solid Kiwi. He's educated and leads from the front. He takes the reigns between the teeth and just goes for it. Rating: 10/10
Overall rating: 10/10
McCaw's legacy: I think he would swap everything to win the World Cup. He'll still go down as a great captain, but he could still go down as a great captain never to win the World Cup.
Stu Wilson - former All Black captain
McCaw as a player: He's been the crown jewel, without a doubt. He's brought standards to the team, his standards are very high. When you become a world class player and you have a slight off game - which would still be in anyone's book a great game - people talk about him. Rating: 10/10
McCaw as a captain: He's very much a follow-me leader. I think he learned a huge lesson in 2007 in the quarter final of the Rugby World Cup in Cardiff against France. He's become a better captain in his decision-making, changing the options and certain patterns in the game since. Rating: 8/10 (But if he wins the World Cup, he'll go up to 10/10!)
Overall rating: 9/10
McCaw's legacy: The key thing for me is the statistic that sits beside his name as a captain - his success rate in test match rugby is absolutely phenomenal. When he plays, we have a chance of winning. When he doesn't, we lose pretty regularly. If he wins the William Webb Ellis trophy he then can be classed in the icon/legendary status.
Wynne Gray: - NZ Herald senior rugby writer
McCaw as a player: McCaw's enduring decade of excellence in the collision zones and across the park is a remarkable achievement and a tribute to the mental strength he brings to his game. He is supremely organised, motivated and dedicated to his team. Rating: 9/10

McCaw as a captain: McCaw drew from the leadership skill of men he served under like Reuben Thorne and Tana Umaga and then added his own style. He is a follow-me type of captain, authorative and always demanding they all reach higher standards. Rating: 8/10
Overall rating: 9/10

Legacy: He sits in the highest levels of All Black greats, a formidable competitor, a great technician and well-balanced bloke.
Dylan Cleaver - NZ Herald rugby writer
McCaw as a player: Even without the longevity, he'd be one of the all-time greats. He plays not only in an attritional position, but one whose demands constantly change with the whims of the IRB lawmakers. Might not necessarily be an out-and-out No 7 any more, if there is such a thing, but he has established himself as a ball-carrier Rating: 9/10
McCaw as a captain: It might be sacrilege, but while his record as a player is unimpeachable, the Tri-Nations loss in Brisbane last month highlighted a worrying inability to think on the hoof, a glitch exposed most glaringly in Cardiff four years ago. McCaw does not come across as cerebral as a Mourie, or as blood-and-guts as Shelford. If he's lifting a bit of goldware above his head on October 23, he'll be rated as the equal, if not better, than either of them. It hasn't happened yet, though. Rating: 6.5/10
Overall rating: 8/10
McCaw's Legacy: In New Zealand terms, when he hangs up his boots, he'll be regarded as one of the top three or four players ever to pull on an All Black jumper. In world terms, as a breakaway loose forward, you'd have to ask whether any one of the following was better - Rob Louw, Hennie Muller, Jean-Pierre Rives, Michael Jones, Finlay Calder, Olivier Magne or George Smith? The answer: probably not.
David Leggat - NZ Herald rugby writer
McCaw as a player: McCaw is the finest No 7 of the modern game. A terrific tackler and fetcher at the breakdown, and armed with an intimate knowledge of the rules at a notoriously complex area of the game, McCaw is a true champion. Rating: 9/10
McCaw as a captain: The World Cup quarter-final loss in 2007 was not his finest hour. The jury is still out on whether he is capable of making the right decisions in the heat of the big moments. But he's improving, commands tremendous respect and think of a player in the present squad you'd rather have calling the shots. Rating: 7/10
Overall rating: 8.5/10
McCaw's legacy: When he pulls his boots off the final time, McCaw will be guaranteed a place among the all-time greats.
Keith Quinn - Commentator great
McCaw as a player: He's been a wonderful player in the new way to play openside flanker - by that I mean the old openside flanker was the tearaway guy like Josh Kronfeld, and before him Michael Jones, and before him Graham Mourie. The role of the number 7 player has changed in the last 5-7 years and he's adapted to that very well. Rating: 10/10
McCaw as a captain: It took him a long time to become an assertive captain. In 2007 he kind of stood back a lot but he's grown into that in the years since. I don't think he rates alongside the very greatest captains we've had, people like Wilson Whineray, Graham Mourie and Sean Fitzpatrick. I think he tucks in just behind them. Rating: 8/10
Overall rating: 9/10
McCaw's legacy: He is among our great modern players, but I'm not sure if he sits high in the rankings of our top three or four players. I admire him for making the contribution that he has, but he has had the advantage of playing a higher number of tests - it certainly is impressive, but George Nepia player 8 test matches over the span of a decade. Meads played 55 over 14 years. You don't judge him on 100 tests, you judge him on what he's done elsewhere.