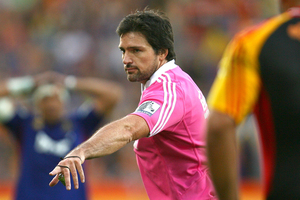 Most of the bile has stopped but there are some still banging on about Steve Walsh's refereeing impact on the Six Nations decider and ignoring the margin of Wales' 30-3 victory against England.
There was a similar carry-on when France beat the All Blacks at the 2007 Rugby World Cup, however that had more context because of the narrow margin.
But England, dear old England, complete with their cheerleading media sidekicks, went to that same ground where the All Blacks creaked six years ago, and were dismembered.
The penalty count was lopsided but nothing like Wayne Barnes' decisions in 2007.
What was clear, and acknowledged by a succession of scrum penalties and lack of decisions at the breakdown, was that the laws are in serious need of an update.
Referees are asked to make scrum judgments and Wales benefited from supremacy in that area of the Six Nations decider.
If scrums remain a mystery, the breakdowns are worse.
It doesn't matter where you look, north or south of the equator, Super 15 or Heineken Cup, the tackled ball and breakdown rules are baffling.
Players get isolated but somehow, after several forward rolls, a half-pike, mandatory ball cuddle, re-evaluation of the air pressure and subsequent squeeze-ball tactic, they win a penalty while several tacklers raise their arms in frustration.
At other times, sides seal off the ball, come in from all sorts of angles or clean out players who are nowhere near the ball and officials blithely signal play to carry on.
It's daft. Rugby's rules are getting more blurry, referees are given no chance and spectators have little inkling about decisions.
We have a bit over two years until the next World Cup reconvenes in Europe. It's enough time, even for the dribblers who administer the sport, to make some strong decisions about areas which are a blight on the game.
The scrum engagement is always hold-your-breath territory. Whatever side the referee stands on, the other will be getting up to some nonsense because the assistant refs rarely intervene.
One solution would be for the front rows to engage and get set before the back five are asked to join their teammates. Or get the tight five into combat before the loose forwards are involved.
The emasculated breakdown remains a shemozzle. Without rucking, the tackler and his victim grapple on the ground as they simulate releasing each other and possession.
When match officials get to those pile-ups, they have often missed some vital evidence before making their decisions.
If administrators allow rucks to be a free-for-all contest with the only arbiter being the offside line, they might even get some more space on the field for the game to develop.