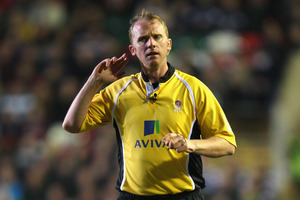 Wrong place, wrong time and lacking conviction - but Graham Henry's match-fixing theory can't be summarily dismissed just yet.
Forget the context in which the subject has come to light and strip out the emotion to leave the bare facts: 60 minutes of rugby without a penalty is highly irregular, especially when one side dominates territory and possession as the All Blacks did in that 2007 Rugby World Cup quarter-final.
The raw statistics from that game are not so much anomalous as freakish: so out of whack on any comparative scale with any game played at the World Cup before or since. Not even the contentious quarter-final last year between South Africa and Australia was so skewed.
After that match, Springbok captain John Smit was moved to say: "It's the first time I have lost a game on the scoreboard but won everything else from a stats point of view."
Rugby, sanctimonious and forever convinced by its own purity, can't be above suspicion and yet it protects itself from corruption with flimsy and outdated regulations.
The fact there is no recognised system in place to accept and then process serious allegations is perhaps typical of rugby's misplaced arrogance that it is immune to scandal.
Strange, given it was only three years ago that one of the most respected figures in the game, Dean Richards, sent a player into battle with a fake blood capsule in his sock and then spent an inordinately long time lying about it. And he was a policeman in a former life.
Strange, given corruption is an evil sport can't shake. Cricket is riddled with it, as are cycling and athletics, while football has had sporadic cases of match-fixing involving players and referees. So why not rugby?
The danger of pillorying Henry is that rugby ignores the possibility of corruption as the focus has fallen on the lousy timing and vehicle of the message rather than the message itself.
Plenty of other sports freely ask questions when they encounter the strangely inexplicable; anything suspicious - like a series of no-balls or a 16-year-old girl swimming faster than a male Olympic champion - is treated as such. There was plenty to think about in that quarter-final. It doesn't make anyone guilty but does point to the fact there should be an appropriate mechanism for it to be considered.
Almost of more interest than the claim of match-fixing is the way the New Zealand Rugby Union reacted when Henry brought it up with them in 2007. They didn't want to know; as the next hosts of the World Cup, they were anxious to remain within the IRB's circle of trust. An inquiry as to whether a treasured official of the governing body might be on the take wouldn't build much goodwill so Henry was told to zip it.
Even if the NZRU had made a complaint, it's almost certain it would have been quickly dismissed; the IRB have a fierce aversion to scandal at World Cups. The eye-gouging of Richie McCaw in last year's World Cup final was never going to be investigated - nothing would be allowed to taint the big event.
Referees, coaches, players - everyone connected to the game - deserves more robust safeguards that ensure their reputations cannot be besmirched or ruined by baseless claims. A distinction has to be made between incompetence and corruption when it comes to referees and, while mostly everyone except Henry would see Wayne Barnes' work five years ago as the former, procedures have to at least be in place to eliminate the possibility of the latter.
That, surely, has to be the lesson for the IRB and other rugby bosses from this furore; the threat of corruption has to be taken seriously and the IRB has to have alerts and security systems that protect referees and players.
If there is certainty that rugby is being monitored, that there is an automatic red flag raised when bizarre statistics are produced from specific games, then there won't be the need for sensationalised outbursts that may be aired for commercial effect.
The IRB does have limited regulations around wagering, but they are considered out of date and ineffective, which is why they are being amended.