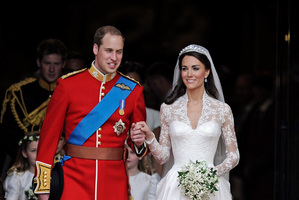 She had to endure her in-laws for Christmas and his absence for Valentine's Day.
In many ways the first 12 months of marriage for the Duke and Duchess of Cambridge has been a typical tale of newlywed life with all the usual sacrifices.
Add to that a sometimes critical world audience, complete lack of privacy, and demands for an heir, and it could be perceived such a celebrity-status couple face a tough battle to maintain their wedded bliss.
However, if it's a challenge they're facing, the toll is not shown by Mr and Mrs Wales, according to respected London couples counsellor, Dr Sheri Jacobson.
One year after Prince William and Catherine Middleton arrived at the altar of Westminster Abbey on April 29 - watched by some two billion of their nearest and dearest around the globe - the loved-up royals are showing all the right signs for a lasting bond.
"At this stage you can only presume it's all going well if it looks good from the outside," said Dr Jacobson, a Harley Street therapist.
"Where there's smoke, there's fire and we currently aren't seeing any problems on that front.
"Although a smiling exterior doesn't always mean internal happiness, the body language here is good, affectionate. [That] is definitely something to keep an eye on and look out for any breaks which may suggest a strain."
Since tying the knot, 'Will-Kat' (as they have become affectionately known in some circles) have made an official visit to Canada and Los Angeles, where Catherine and her infectious smile won the hearts of an already-doting public.
Back in the UK, home time is split between a palace apartment in London and a military cottage in Wales, where 29-year-old Flight Lieutenant Wales is based for work.
The couple opt for home-cooked meals and quiet nights on the sofa watching DVDs according to British media reports. Maybe they are mindful of their future when such peace will be overtaken by official duty.
William's younger brother, Prince Harry, has even criticised his sibling for becoming "rather boring" since getting married.
The Duchess, 30, spoke of how she missed William during his six-week military deployment to the Falkland Islands.
Both of the couple's homes are some distance from Catherine's family address at Berkshire, located west of the English capital.
"Dealing with separation is all about how much communication they maintain while apart and what they permit each other to do in terms of company while away," Dr Jacobson said.
"He would have his colleagues and we've seen that she has a new puppy.
"You need to replace or substitute the company and having an enduring personal connection with someone or something is important, be it a sibling - and in Kate's case she and Pippa are close - friends, family, pets."
Since joining 'The Firm' (as the Windsor clan is sometimes known), Catherine has made moves to claim her own identity.
She has confirmed herself as a force for good in British fashion circles, with every thread she hangs from her ultra-slim figure becoming an instant sell-out.
She has selected charities for which she will act as royal patron and has begun making official solo visits, just last month making her first public speech.
"Keeping busy is important and we have seen Kate begin her 'work' as a royal in earnest in William's absence. It is not for the sake of distraction per se, but just for general occupation," Dr Jacobson said.
"We all need to be finding meaning in what we are doing. We have to create some sort of meaning and context ... from a menu of options that are available and Kate seems to be embracing that and filling her time with activities that are both productive and enjoyable."
However, Catherine's activities are always going to be in the public view which itself exerts more pressure on her marriage, Dr Jacobson said.
Indeed, in the past year the new royal has managed to steal only a few periods of complete privacy with her husband; once on her honeymoon to the Seychelles, again during a Middleton family holiday to the Caribbean island of Mustique, and most recently a French ski trip.
"Having the spotlight shone on you adds a huge degree of pressure in terms of being self-conscious," she said.
"You're constantly self-appraising, worrying what the press is going to say about you and adjusting yourself accordingly. It can make or break a relationship.
"In this case it seems like it has made them closer - they have got a common cause and purpose and they are united against what is a common challenge.
"But the constant critique can have a wearing effect on self esteem and would affect how they are together, proving potentially destabilising."
Rather than offering the couple some respite, year two of marriage looks set to continue focusing a blazing spotlight on William and Catherine.
Bookmakers are offering odds to suggest the birth of an heir to the throne will most probably occur in 2012 or 2013.
The youngster will likely be born into a military family, with whispers from Clarence House suggesting the Duke plans to continue working in his RAF role.
There are suggestions the couple will hold off until at least 2013 to start a family so they can concentrate on their roles for the Queen's Diamond Jubilee and as ambassadors for the London Olympic Games.
Later in 2012 they will tour Singapore, Malaysia, the Solomon Islands and Tuvalu as official representatives of the monarch celebrating her 60th year on the throne.
In 2013, they are expected to move in to an expansive, freshly-renovated apartment at Kensington Palace.
Regardless of their reproduction or whereabouts, scientist Garth Sundem said the Duke and Duchess can expect a lasting marriage in accordance with his Unified Celebrity Theory.
Mr Sundem, who has forecast the demise of celebrity partnerships including Demi Moore and Ashton Kutcher, and Britney Spears and Kevin Federline, said it's good news for Catherine and William, who achieve positive results from the formula because of their similar age, lengthy courtship, and lack of previous marriage failures.
- AAP