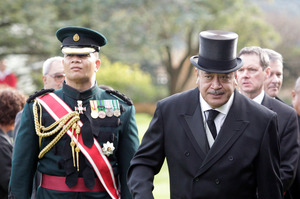 Some of New Zealand's top politicians and the Governor General, Sir Jerry Mateparae, have today visited the tomb of King George Tupou V in Tonga, to pay New Zealand's respects.
Politicians in attendance included New Zealand First leader Winston Peters, Labour leader David Shearer and Mana's Hone Harawira.
Nearby, workers were this morning removing low hanging power lines in preparation for a procession of the King's body atop a 20m long platform carried on the shoulder of 200 young men, from the royal palace some 300m up Tu'i Road, also known as 'King's Road'.
Authorities deemed the low hanging lines a safety risk to the platform carrying the King's body.
The procession started at 12pm and mourners were searching out shady vantage points to watch the procession.
Tupou College, a boys' secondary school, have walked down the road and have formed a guard of honour along the side of the street.
Meanwhile stories are emerging about the King's desire to mix with ordinary people.
Fusi Topui, a long time confident, said that her friend had visited toddlers with terminal diseases and wanted to be 'closer to his countrymen'.
"When he went on official visit he'd join in the kava ceremonies with his hosts even when they weren't expecting it.
"He'd also dip into churches other than his own, to the surprise of congregations."
A keen genealogist, she said the King's reign would go down as one of the country's greatest.
"He chose quite often to do away with the excessive pomp and chose to do the role with transparency and accountability.
"His out persona ...gave many outsiders the idea that he had contempt for Tongan people.
"But the outer show didn't match the inner person," she said.