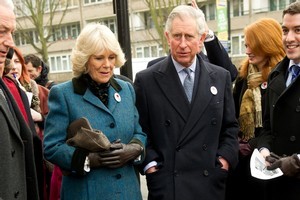 The pressures of public life are building for Prince Charles's wife, Camilla, who is leading a life increasingly separate from the future king, reports a British newspaper.
The Duchess of Cornwall, 64, regularly leaves Charles to "escape" to her old country house in the Cotswolds, her hairdresser and confidante, Jo Hansford, told the Daily Star.
"He (Charles) was born into it, she (Camilla) wasn't, she came into it much later in life," Hansford said of royal living and Camilla's handling of it some seven years after she married a prince.
"That escape is fantastic from her point of view."
When not scheduled for public engagements, Camilla travels to her country hideaway, where she spends time with her grandchildren and gardening, and she doesn't have to worry about her appearance or being hounded by photographers, said the report.
"This is causing concern about the future. She goes off at least once a week or every 10 days to escape," an unnamed royal aide told the Star.
"Charles is worried and irritated and has spoken to her ... at the moment he is prepared to put up with it, but there will come a time when he won't."
In the final months of 2012, Charles and Camilla are due to visit Australia as part of an international tour schedule by senior royals to mark the Queen's diamond jubilee.
The Star report said: "Camilla does not like long journeys or flying."
A spokesman for the Duchess denied she and Charles were undertaking an increasing number of individual engagements.
"They are not leading separate lives; they do joint engagements and individual engagements to maximise the impact the royals have," he said.
- AAP