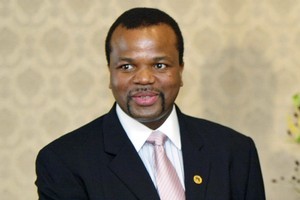 Swaziland faces mounting calls to open up a secretive fund allegedly used to bankroll the lavish lifestyle of its royal family to help rescue the kingdom from its financial crisis.
The Tibiyo Taka Ngwane fund is believed to control as much as half of the Swazi economy, with interests in sugar, diamonds, banking and property, but allows no public scrutiny and pays no tax.
Africa's last absolute monarch was handed a controversial US$355 million ($437 million) bailout by South Africa last week amid reports that hospitals were running out of medicines, public service salaries were going unpaid and Aids patients were eating cow dung. An alliance of businesses, opposition groups and trade unions have accused King Mswati III of using the billion-dollar investment vehicle set up "in trust" for the Swazi people as a private slush fund.
The fund was set up in the 1960s when families were told to donate cattle to help buy back land from colonial settlers. After independence it was given a royal charter by Mswati's father, King Sobhuza II, and put under the monarch's direct control.
The fund has since grown to the point where it holds majority stakes in companies including the country's biggest exporter, Ilovo Sugar, Swazi Spa Holdings, a string of shopping malls and the Swazi Observer newspaper. On its website the fund says that it is "most unfortunate that most people ... are largely ignorant of what Tibiyo is, what it stands for and what it does".
Tibiyo insists that recent criticism stems from it not having "adequately blown its trumpets" over spending on education and cultural events.
Mswati, 43, has ignored international pressure for democratic reforms and resisted calls from the World Bank and IMF to rein in his lifestyle, which includes shopping sprees for Maybach limousines and a string of palaces, in a country of 1.2 million people where poverty is endemic and life expectancy is below 50.
The king has banned opposition groups, but has encountered mounting protests, with unions demanding democratic reforms.
The kingdom has agreed to demands from the IMF to cut public sector wages by up to 10 per cent. The Swazi democracy movement plans a "global day of action" early next month.
- INDEPENDENT