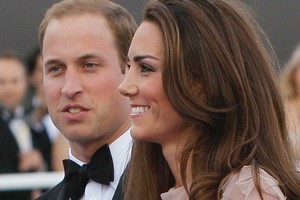 Suddenly, every picture is beginning to tell the same buoyant royal story.
Here are William and Kate smiling happily as they prepare for their first formal tour, to Canada and - probably less formally - Hollywood. Here are the princesses Beatrice and Eugenie, no funny hats but mum in tow, at an Elton John charity ball. Here are Zara Phillips and craggy Mike Tindall watching Prince Harry play polo at Beaufort. And here's Harry himself, larking around with mates as usual.
How many love stories can one week's worth of Windsor family snapping contrive? We're almost into our third month of the Cambridge circus. Pass the baton to Zara and her one-time English rugby captain for their Edinburgh wedding next month. But don't forget the two York girls waiting behind - or Harry himself. The boy's got to settle down some time.
And this procession of images, swilling round the media in a single, now typical, week, are also about more than real or pending romance. They tell you where the paparazzi market finds itself today: soft-edged, human, optimistic, affectionate.
They also reveal a dramatic upturn in royal family fortunes.
Such moods, of course, swing both ways. They swung viciously downwards after the death of Diana - and the Queen's annus horribilis. They have seen indulgent laughter become raised eyebrows over Sarah Ferguson's idiocies.
They currently run at rock bottom as far as Prince Andrew and his idiotic attacks on the British press are concerned. But, at stage centre, at the heart of royal longevity, the mood is overwhelmingly positive. Where did all this adulation come from? The normal media thing is to take a spin doctor - in this case, Paddy Harverson, the ex-Man U PR based at Clarence House - and pavilion him in awed praise as a mastermind able to rescue the most hopeless cases from mass revulsion (or apathy). And Harverson, shrewd, relaxed and effacing, deserves his credit.
Image makers aren't always the wonder workers of their own legend, though. They can help a client stuck in the mire. Simon Lewis and Simon Walker, two smooth operators, began the rescue job a decade ago as Buckingham Palace finally realised it needed co-ordination - and a policy.
Harverson has built on those very professional foundations. But this is also silk-purse-and-sow's-ear territory at its most demanding.
Remember the tabloids three years ago. Remember "Waity Katy", doing too little for Fleet Street tastes. Remember her ex-air stewardess mother and the "doors to manual" jibes. Remember, for that matter, William's own anti-media sulks. The basic fact, in this great change of perception, isn't manipulation, or even sound common sense.
The fact is that Catherine Middleton, having waited so long, turns out to be a pretty, sunny picture opportunity the photographers themselves admire. The fact is that William is easier and obviously cheerful when she's around. The fact - dramatically demonstrated at their wedding - is that Joe and Joanna Public love the Cambridges, so there's no reason to be beastly to them.
Such pervasive sweetness cannot last, of course. What goes up in media terms must also go down. One snarl from William, one laddered stocking from Kate, one stumble in Hollywood, and sugar could turn to lumps. Those who live by PR can also die by it.
But in terms of the next pictures in this album, there's much more to look forward to: the first baby, the christening, umpteen royal weddings and a few funerals. The picture parade will never cease. Except, perhaps, in one respect strangely neglected amid last week's revels. Harverson is, first and foremost, media guru to Charles and Camilla. So where were they when the shutters started clicking? Come to that, did you see much of them at the wedding?
There are, it seems, times to have your pictures in the paper, and times to lie low. Times to look happy - and times to make others happy, by not being there.
- Observer