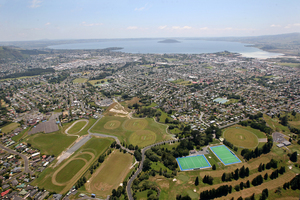 Fordlands is the city's cheapest suburb to purchase a house, while Glenholme is home to Rotorua's priciest digs.
The latest QV New Zealand Herald Property Report, released this week, shows the average house sale price in Rotorua dropped 0.6 per cent between July and September to $275,017, while Auckland region prices jumped 4.8 per cent to $676,053.
The cheapest area to buy a house in Rotorua was Fordlands, with a median house price of $104,750, while the most expensive area was Glenholme at $355,000.
Meanwhile, newly released PropertyIQ figures show first home buyers have accounted for 22 per cent of all residential sales in Rotorua since the beginning of 2012.
West Auckland had the highest proportion of first home buyer sales at 29 per cent, compared with just 6 per cent in the Coromandel.
Bayley's Rotorua manager Beth Millard said the slight drop in prices could be explained by the lack of buyers and high-end sales.
"The end of the market that's still very hot is that $300,000-$400,000 price range. The plus $600,000 price range remains a bit challenging."
A lift in activity since October 1 reflected the positivity that coincided with summer, despite new Reserve Bank lending restrictions dealing first-home buyers a "whack".
In Fordlands, $104,750 would get you a "very standard" ex-state house with few improvements, Mrs Millard said. It would be humble and probably weatherboard, with fencing and garaging unlikely.
At the other end of the scale, a $355,000 budget in "sought after" Glenholme would buy a two or three-bedroom townhouse or a standalone home of decent quality.
Nationally, the QV figures showed Herne Bay in Auckland retained its top spot as the country's most expensive suburb, rising 3.5 per cent to a median house price of $1.77 million.
Waitakere City's average house price experienced the biggest regional jump of 6.5 per cent, while Napier prices saw the biggest fall, declining 0.5 per cent.
Real Estate Institute of New Zealand chief executive Helen O'Sullivan said buyer behaviour had changed markedly since the Reserve Bank's home loan restrictions came into force on October 1.
"Some buyers [have been] horribly depressed. They are all having to go back to the drawing board a bit."
There were "real concerns" coming from regional New Zealand. "In the regions there's a significant report that first home buyers have dropped out of the market entirely while they are working on their deposits."
Regional home owners looking to upgrade were also struggling to turn their equity into a 20 per cent deposit, she said.
Property Report editor Tony Verdon said that, while the number of properties listed had increased over the past six months, agents were lamenting the lack of quality listings.
"The number of homes sold in markets such as Whangarei and Rotorua has increased significantly, although price levels have yet to markedly lift."
The full impact of the Reserve Bank's restrictions were not yet known, he said.
By the numbers
Median house sale price July to September
Fairy Springs: $229,000 (1)
Fordlands: $104,750 (2)
Glenholme: $355,000 (10)
Hillcrest: $237,000 (9)
Kawaha Point: $233,000 (10)
Koutu: $175,000 (2)
Lynmore: $341,500 (13)
Mangakakahi: $176,000 (9)
Ngongotaha: $269,500 (15)
Owhata: $256,500 (23)
Pukehangi: $198,500 (14)
Springfield: $321,500 (8)
Utuhina: $201,000 (6)
Western Heights: $122,000 (9)