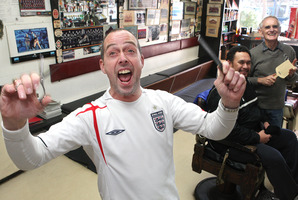 Every so often I need a haircut.
It doesn't take long. There's not a lot up there.
I always scurry along to my old football mate Glen at Wilson's Barber Shop and he gets the buzz saw out and goes to work.
Although noisy, particularly as he tackles the wiry mass that seems to be emerging from my ears these days, I always drift off to sleep. Maybe that's got something to do with his latest tale of Manchester United success? Who knows.
When I awake, I look and feel like Brad Pitt and race home to accept the adoring praise of Mrs P. Her adulation is enough to add a beaming smile to my face and is a forecast of a good day ahead.
As I drove into town just the other day I was looking forward to catching up with Glen and the lads to discuss cultural activities such as beer drinking and football. Unfortunately, the place was full and I couldn't wait.
Dejected, I scuttled home where Mrs P announced she'd cut it herself.
She had bought a "buzzy thing" from Grab-something or other online and was up to the challenge.
Minutes later, I was perched on a stool in our bathroom, stripped to the waist, impressive forearm and abdominal muscular structure reflected in the mirror (OK, I'm making up that bit), with Mrs P coming at me with the buzzer.
I should explain there is method in the madness of being stripped to the waist.
Hair goes everywhere, I am reliably informed. This way it will merely fall to the tiled floor and I can sweep it up and jump straight in the shower to get rid of the rest. Good plan. So we start.
Mrs P plunges the buzzer into one of the two thick "wings" that have decided to grow on either side of my balding pate. There is a bit of a scrap as the hair tries to spring back but Mrs P is having none of it and presses on hard, keeping the buzzer moving in one fluid movement.
After five minutes, we have one wing off. The second is positively quivering in fear as she approaches. Then the phone rings.
Mrs P goes all Terminator on me. "I'll be back" she says as she switches the buzzer off and disappears.
At this point, I'm sitting half naked on a stool in my bathroom with half a haircut. I'm getting restless. I figure there's only one sensible thing to do.
So I grab the shaving foam sitting on the sink bench in front of me and give myself a nice white beard. And for good measure, I squirt a smiley face on my chest and wait for my lovely to return.
And I wait. And wait. And wait. There is no time limit on having a giggle. But there should be.
It's funny for the first minute as you anticipate the look on the victim's face. But after two minutes you start to have doubts. After three minutes you start to have doubts and feel stupid. After four minutes you get cold too.
Then you just feel stupid.
I was thinking I might wipe it all off when the dog poked his nose round the bathroom door.
As he looked at me sitting alone on a stool in the bathroom, half naked, plastered with shaving foam and with half a haircut, I could tell the mutt was thinking: "what the ..."
I got up to shoo him from the bathroom but he took off, terrified, almost bowling Mrs P who had finally put down the phone and was returning to deal to the second wing.
Obviously, my beloved is used to my bizarre attempts at humour and merely rolled her eyes as I wiped the foam away and stammered an explanation about why a bizarre-looking 50-year-old man should be chasing an innocent 10-month-old puppy through the house.
Anyway, the rest of the haircut passed boringly by comparison.
The dog's still a bit wary of me though, or maybe it's just my DIY haircut he can't work out.
Either way, next time if there's a queue at the barber shop I think I'll wait.