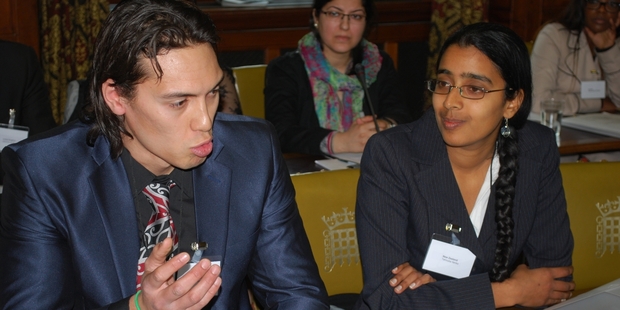 Try this for a daunting assignment: being asked to speak at the British House of Parliament on the subject of fostering prosperity and co-operation across the Commonwealth.
If you think that sounds tricky, then your reaction is similar to Tredegar Hall's.
The former Taupo man, who affiliates to Ngati Tuwharetoa, is now based in London working for New Zealand Immigration.
He has a Master's degree from Waikato University.
The theme of Commonwealth Day was "Team Commonwealth" and included discussions on the Commonwealth and the contribution of the Commonwealth Parliamentary Association to parliamentary democracy, debates and presentations on current critical issues in the Commonwealth and attendance at the Observance at Westminster Abbey with the Queen and Commonwealth High Commissioners present.
The day started with strict security at the Houses of Parliament, where Mr Hall met the other New Zealand representative, Cambridge University PhD student Tehnuka Ilanko.
After an address, the representatives had a tour of the parliament and then two United Kingdom MPs spoke to the group about their roles.
That was followed by discussion and debates.
Mr Hall said he was most nervous about the debate session because he was one of the speakers.
"I found it challenging constructing the speech as I found the topic very ambiguous. I had to do a little bit of research, get my head around what the Commonwealth actually is and then come up with my own definition of what prosperity is [and] how it should be applied to Commonwealth.
"I opened in Maori with a tauparapara and our Tuwharetoa pepeha."
Mr Hall went on to discuss Maori and Crown Treaty of Waitangi relations and the evolution of New Zealand culture as an analogy for how relationships within the Commonwealth should develop, making the point that "prosperity is a collaboration and celebration of diversity which exists amongst co-operation and unity".
He said one of the most interesting things about the day was meeting and speaking with other Commonwealth representatives, New Zealand High Commissioner Lockwood Smith and the Commonwealth Parliamentary Association staff.
"It was a good chance to reflect on the histories of some of the countries that had sent representatives, to think about what the Commonwealth meant to the different reps, and about why their attitudes were so diverse," Mr Hall said.
"All in all it was a great opportunity."